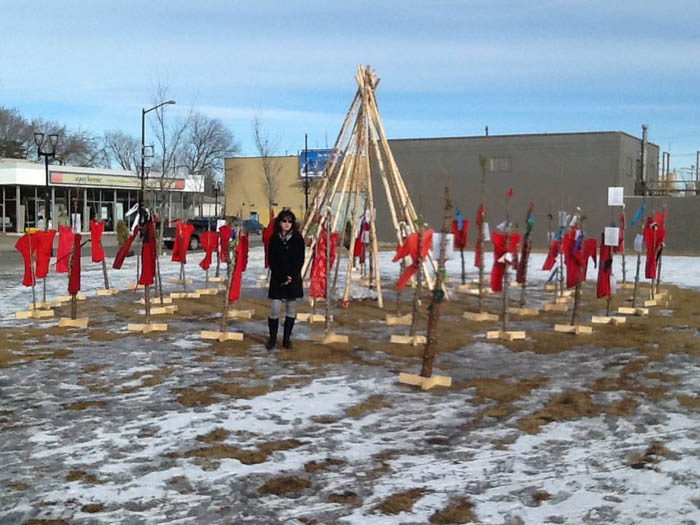 Sherry Tinsley at an art installation called "Ni Wapataenan" in Edmonton last fall.
By KORIE MARSHALL
A dress was recently stolen from outside a local business, but it's not so much the loss of the article of clothing that has owner Sherry Tinsley and her family upset. It's whether or not the thief knew what the red dress meant.
For Tinsley, the red dress was a symbol of remembrance and solidarity with the missing and murdered indigenous women in Canada. She and her mother had tightly sewn it to a hanger and hung it high outside the door of her salon last fall, after she visited an art display in Edmonton.
The display on 118th Avenue by Lori Calkins is called "Ni Wapataenan," which means "we see." It is made up of 40 red dresses that sway from branches around an uncovered tipi, representing an incomplete home. It was partly inspired by The REDress Project, which has made red dresses a symbol for missing and murdered indigenous women. Tinsley says she wanted to show her support for the cause.
"I found the prettiest red dress so 'my girl' would stand out in a crowd," she says.
People who came to her shop would ask what it meant, and it was a way to start talking about the issue, says Tinsley. When it got really windy, she would bring it inside and lay it on one of the chairs.
"Don't sit on her," she'd tell patrons. To her, it was not simply a dress. It represented a sister, and the embodiment of missing and murdered women in Canada.
"It is like looking for a missing person," she says about her search for the dress after it went missing in early March. She says the loss was heartbreaking for her mother as well, who drove around town looking for it, and came back with tears in her eyes.
"To whoever took her I hope her 'Spirit' is kind to you," says Tinsley, who now plans to find more red dresses, and hopes to make an even bigger display.