by LAURA KEIL
"We can really rock this joint if we want to."
It's not something you'd ordinarily hear a principal say – especially about his own school.
But Principal Dan Kenkel is singing a different tune, one that has let students explore music in a school with no band program.
Kenkel – in conjunction with former teacher Todd Crossley – has been putting instruments into the hands of Valemount Secondary students. And sometimes they rock the joint.
With donations from community members and instruments from the School District, the 9-12 Music class has expanded from acoustic guitar to banjo, mandolin and even a rock band.
In the centre of the school's theatre stage sits a gleaming drum kit, several amps, and two electric guitars. The new music program is several years in the making.
"It's an emphasis I felt we needed to move in. Basically we didn't have enough arts," Kenkel says.
The rock band is comprised of Niam Karas, Willis Courtoreille and Riley L'Hirondelle and other students who jam during their unstructured music class time.
"It's a good time to just play around," says Karas. "Test out some guitars, test out some instruments."
While the band time is generally unstructured, Kenkel says he's offered feedback in the past that's included information on rhythm, timing and playing together.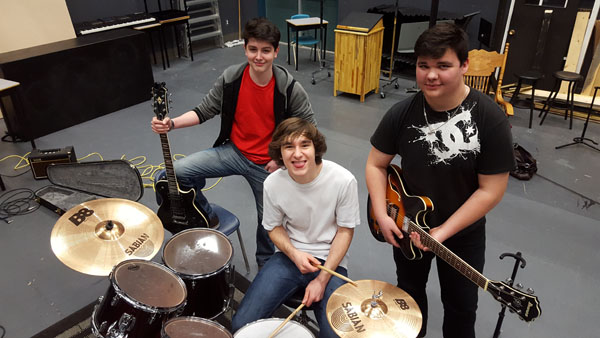 Kenkel himself is still learning. He picked up the guitar a few years ago, thinking that he could teach basic guitar. The music class has attracted eight students from Gr. 9 to Gr. 12 who are at different stages of learning.
Multi-grade classrooms are the order of the day at small rural schools. Kenkel says he manages it by ensuring students are connected to an online module that teaches to their knowledge level. Kenkel tests them on what they learn. He also teaches to the whole group.
He says a guitar class is more "small school friendly" than the band program, which required a well-rounded music teacher and many more instruments.
The storage unit where those band instruments were stored after the band program shut down is now full of hard-cover guitar cases with shiny guitars inside.
The class is mostly acoustic guitar, but both Kenkel and the students hope to expand the music program to have more instruction on other instruments – like the rock band.
The Grade 8s have gotten their dose of music this year too. Last semester, in their mandatory Explorations survey course, the Gr. 8s built ukuleles from scratch.
Gr. 8 student Clayton Burstrom says he didn't have much woodworking experience before.
"I'd helped nail a couple things in our house," he said.
When he heard from teacher Todd Crossley they would be building ukuleles, he was interested.
"I thought it would be cool to have something like that I could make by myself."
Neither he nor fellow student Jason Van Der Wilk know how to play their ukulele yet – but that may come next year. Kenkel says he plays ukulele "pretty passionately" which may give students the chance to learn another instrument.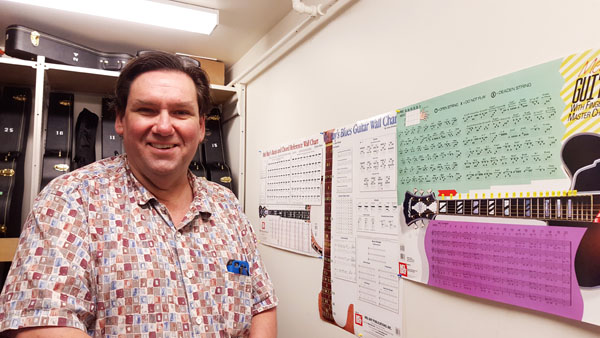 "You can teach three chords and play a thousand songs," Kenkel says.
Kenkel and students sing the praises of teacher Todd Crossley who unfortunately moved back to Ontario this semester.
"No one knew what they were doing, so he had to help 12 people at once," Van Der Wilk says. "And he had a sense of humour while doing it."
"He knows his craft and he's also able to bring it down to the level of the kids," Kenkel says of Crossley's teaching ability.
Niam Karas – who built a guitar in Crossley's class and also had him as a music instructor – says Crossley was passionate about what he did but also diligent.
"He was thorough, he was organized, he was exact," Karas says.
"He cared about what you did," adds Courtoreille. "He wanted it to be nice."
The rock band sometimes plays at school assemblies. So far there are no plans for a public show. But it's clear this class is more than just a class for the students.
"Yeah music class! Let's go! Na-ner-na-ner!"