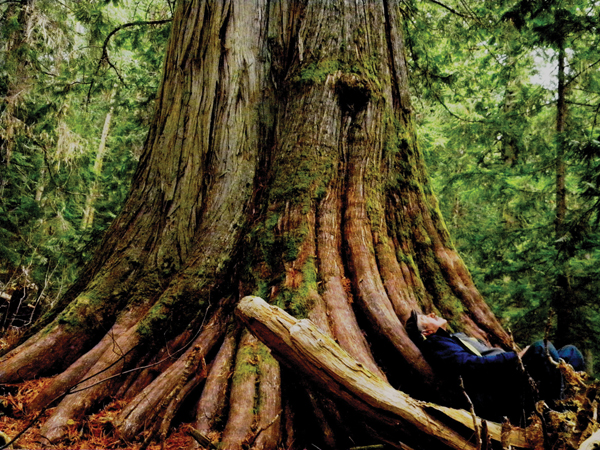 by Goat Staff
Legislation will be introduced in the BC legislature tomorrow to make the Ancient Forest a Provincial Park.
Premier Christy Clark made the announcement on Tuesday. It will be B.C.'s newest Class A provincial park, which makes up part of the only known inland temperate rainforest in the world.
The 11,190-hectare Ancient Forest/Chun T'oh Wudujut (pronounced Chun Toe Wood-yu-jud) Park will be established roughly an hour east of Prince George, near the community of Dome Creek.
"Park status will give this magnificent site the protection it deserves," said Premier Clark. "Thank you to the Lheidli T'enneh First Nation, Caledonia Ramblers Hiking Society, our local MLAs and the dedicated volunteers who worked tirelessly to make this happen."
In 2015, more than 20,000 visitors used these trails, set amongst the towering trees.
Once the legislation passes, Clark said they will start work on making the area a UNESCO World Heritage Site. The Ancient Forest is part of the Interior Cedar Hemlock forest, the only known inland temperate rainforest in the world.
The government has been hosting public input sessions on the idea of turning the area into a park to protect it from logging and other damaging activities.
It has seen some opposition from people who think the protected area is too big and protects trees that are not ancient.
The park designation ensures this unique habitat will be excluded from timber harvesting and other commercial activity, which helps preserve plant ecosystems, wildlife habitat and cultural values.
"The proposed establishment of this park – home to some of the largest old-growth cedar trees in the province – reflects the uniqueness of B.C.`s world-renowned park system," said Environment Minister Mary Polak. "This spectacular setting will now be preserved and protected for future generations to enjoy."
"Dedicated volunteers and community members have worked for years to protect this special habitat," said Shirley Bond, MLA for Prince George-Valemount. "Several of the trees in this historical natural wonder are more than 1,000 years old, with trunks measuring up to 16 metres around."
The proposed park is the culmination of hard work and commitment between the Province, Lheidli T'enneh First Nation and the Caledonia Ramblers Hiking Society, which signed an agreement in July 2015 to protect and preserve these towering ancient cedar stands.
The Caledonia Ramblers Hiking Society has built, and maintains, three kilometres of walking trails in the Ancient Forest, as part of an agreement with the B.C. Recreation Sites and Trails program. This includes a 500-metre wheelchair-accessible boardwalk.
"We have worked hard to ensure the beauty of these ancient cedar stands can be experienced by everyone," said Caledonia president Nowell Senior. "Our volunteers love knowing that their hard work has helped thousands of people access this unique site."
Throughout BC, there are more than 25 million hectares of old-growth forests, of which approximately 4.5 million hectares are fully protected – this represents an area larger than Vancouver Island.
Thirty-seven per cent of B.C.'s land base is under some type of conservation designation – ranging from wildlife habitat areas and old growth management areas to parks and protected areas.