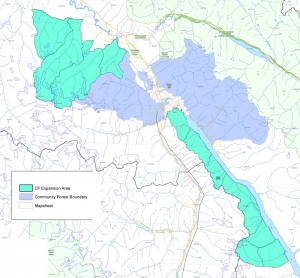 by KORIE MARSHALL
Last week, the Province announced the creation of a new community forest agreement in the Robson Valley area, finalizing the Valemount Community Forest's plans to convert a newly purchased volume license to an area based tenure.
"We are really excited to be able to talk about it finally and really excited that the whole process is over and that we can now get to work in the new areas," said Craig Pryor, manager of the Valemount Community Forest after the announcement.
A news release from the Province says the new agreement covers 13,197 hectares near Valemount, and includes an allowable annual cut of 35,209 cubic meters. The agreement has an initial term of 25 years, and is renewable for another 25-year term after the first 10 years.
In the release, Steve Thompson, Minister of Forests, Lands and Natural Resource Operations, and Shirley Bond, MLA for Prince George-Valemount both acknowledged the work required by government and VCF staff as well as community members to get this agreement.
"Their efforts have substantially increased the ministry's awareness and understanding of just what can be achieved when communities are ready to increase their participation in the forest sector," said Thompson.
"As the local MLA, my job was to ensure that government understood how important this community forest is for economic growth and benefits for Valemount residents," said Bond.
Mayor Jeannette Townsend said this new agreement "provides us with an excellent avenue to diversify our economy and gain a stronger voice in how the forests around Valemount are managed and sustained."
In February, the Valemount Community Forest announced the purchase of 37,509 cubic meters of timber volume per year from Carrier Lumber Ltd, part of the VCF's long term plan for expansion. Once the purchase was finalized, VCF then had to surrender the volume-based license to the Province, and be awarded a new community forest license. The new license comes with its own areas, and will require separate reporting from VCF's existing community forest agreement.
The Province says broad community support was shown for the creation of the new community forest, and engagement and consultation was also carried out with area First Nations. Community forest licenses are long-term, area based tenures, designed to encourage community involvement in the management of local forests. A community forest is managed by a local government, community group or First Nation for the benefit of the entire community, and can promote economic stability and local employment opportunities.
Pryor says the government is working on legislation that will allow VCF to amalgamate the two community forest agreements.
"We have some homework to do operationally, financially and legally to see if it makes sense to do so," said Pryor. "I'll wait to see what the legislation says before I start on this."
The Province's strategy for continued growth in the forest sector identifies community forests as a key element in supporting prosperous rural forest economies. Called "Our Natural Advantage: A Forest Sector Strategy for British Columbia", the document is available online at http://www.for.gov.bc.ca/mof/forestsectorstrategy/Forest_Strategy_WEB.PDF