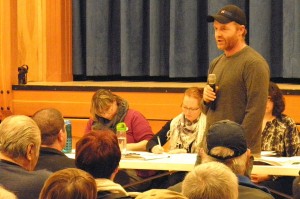 by KORIE MARSHALL
The proponents of a proposed silica processing plant near McBride have another chance to provide information before the Regional District board decides on whether to approve the zoning amendment.
The Regional District of Fraser-Fort George board recently passed second reading of a bylaw that would permit 1823606 Alberta Ltd. to establish a mineral resources processing facility at a former mill site they own. The property is on Ziedler Road, just north of McBride, near a residential area, on the former McBride Forest Industries site.
At a public meeting, many supported the project because of hopes for jobs and economic development, but some raised concerns about the potential danger of silica dust and the potential to use the site for other purposes allowed under the bylaw's definition of "mineral resource processing."
Kenna Jonkman, planner for the Regional District, confirmed that the Board rescinded second reading of the bylaw at its March meeting last week. The Board then amended the bylaw to prohibit the establishment of an asphalt plant or preparation of rail building materials on the property, and approved second reading as amended.
Jonkman says the Board is requesting additional information from the applicant regarding noise and dust control plans to mitigate the impacts to adjacent properties. She says the Board also authorized a second public hearing, once the additional information is provided. No date has yet been set for the new public hearing.