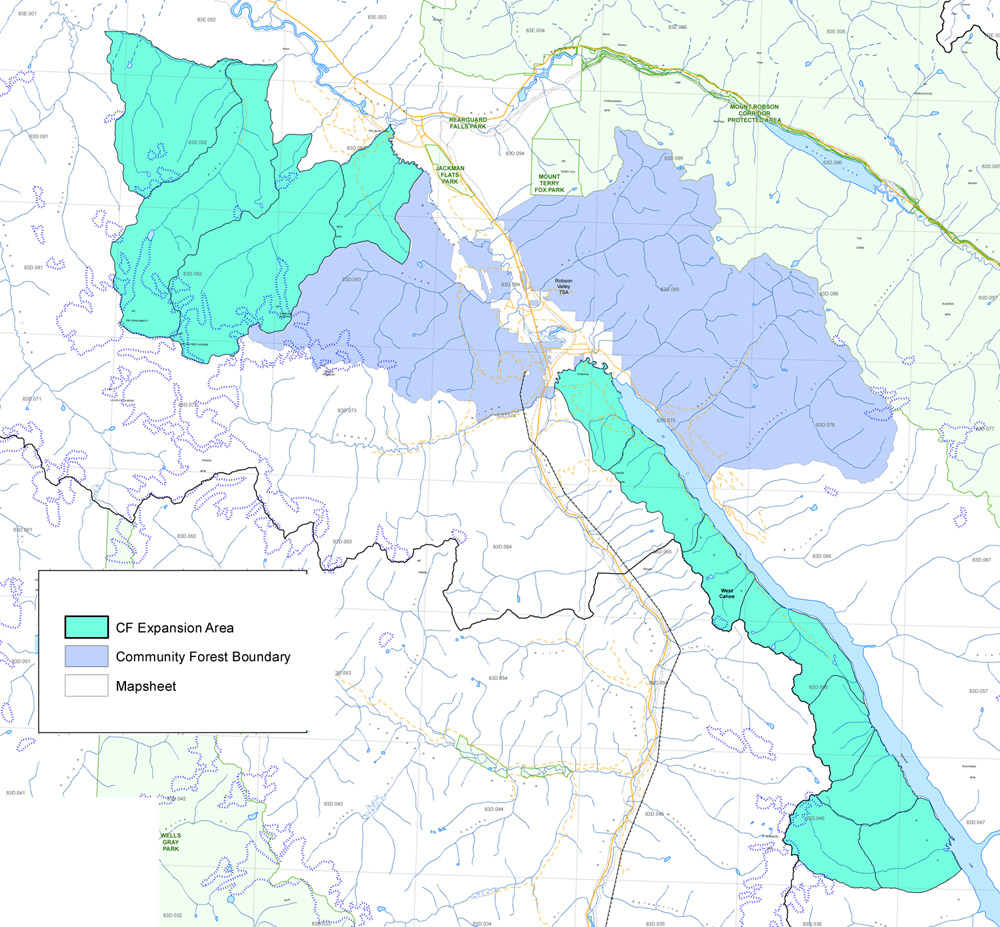 by KORIE MARSHALL
The Valemount Community Forest has announced a purchase of additional timber volume, a major step in its plans for expansion.
Craig Pryor, manager of the VCF, says they have purchased a volume license of 37,509 cubic meters a year from Carrier Lumber Ltd.
"The next step is to surrender the forest license to the government and get awarded a new community forest license back. It's a process that takes time," says Pryor.
In September the VCF hosted a public meeting to discuss the potential deal which would see the VCF purchase half of one of Carrier's local forest licenses. After the purchase, VCF could apply to the Ministry of Forests, Lands and Natural Resource Operations to convert the volume-based license to a new community forest agreement, which is an area based license.
VCF and the McBride Community Forest Corporation have been trying to get more volume to better sustain local mills and local jobs for years. Carrier's two licences cover the vast majority of the annual allowable cut for the Robson Valley area, which was
decreased to 400,000 cubic meters in 2014.
At the meeting in September, Pryor said the agreement has taken three years of planning and negotiations. It essentially doubles the volume the VCF has to work with, which will help replace the loss of the additional volume they've been allowed over the last few years to harvest beetle-killed pine. VCF will pay just over $1.4 million to Carrier, plus a per-tonne allowance based on current market values for 10 years.
Pryor said the toughest part of the deal is that VCF will be committed to tendering 40,000 cubic meters each year for the next 20 years to big mills like Canfor, Tolko, Dunkley and Carrier, but it will be at fair market value, and will be under VCF's control. That leaves over 30,000 cubic meters VCF can harvest, allowing it to choose specific wood types to better supply current and local manufacturing.
"The agreement allows us to deliver the right log to the right place," said Pryor.
He said the benefits will be more control over a larger local forest area which will support projects like Five Mile Hill mountain bike and ski area and Valemount Glacier Destinations resort. It will also help keep local contractors and new businesses busy with cable logging and silviculture surveying. And it will mean a steady supply of wood for potential businesses that are already interested in setting up shop at the VCF's new industrial park.
McBride's community forest corporation is also considering a deal to purchase the other half of Carrier's licence. An advisory committee set up to help the board and review the potential deal met on Jan. 20th, and plans to make a recommendation to the board by the end of March.
Finalized agreements between VCF and Carrier were submitted to the ministry for approval in late December.
"We hope to have more info coming within the next couple of weeks," says Pryor.
VCF is also planning a catered event to make a public announcement. It is planned for Monday, Feb. 15th at 11 am at the Valemount Visitor's Centre.