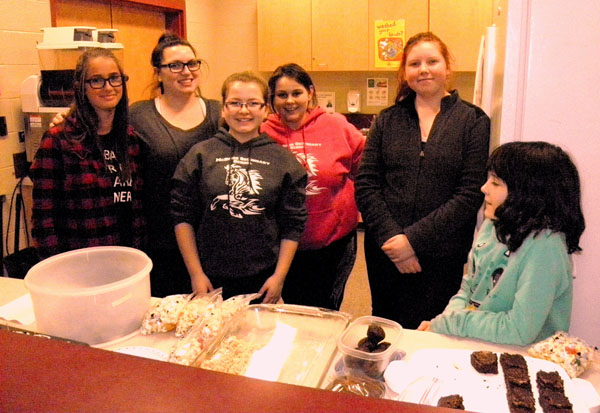 by MONICA MARCU
"Be the change that you wish to you want to see in the world." – Gandhi
Inspired by "Live Different" and with generous support from local businesses and private donors, a team of 13 McBride Secondary School students will travel to Vicente Guerrero, Mexico, where they will build a new house for a family. What a compassionate way to spend a March Break!
A Canadian charity, Live Different gives volunteers from across the country an opportunity to make a difference in the developing world as they build houses, schools or other projects for the less fortunate. Student volunteers can see first-hand how two-thirds of the world lives. The experience is intended to expand their world view, giving them the opportunity to consider how they can build hope, as well as houses, and bring change to others and in their own lives. Above all, the young students learn to become involved as global citizens, care for and take responsibilitiy in helping others.
"The community support has been overwhelming," says Derrick Shaw, Principal at McBride Secondary School. Each person on the trip, including Shaw and the parent chaparones has to raise $1,500, as well as paying for the group's transportation to the Mexican border, and local businesses and citizens have been very generous with their donations.
The team will leave around March 19th next year by bus to Edmonton, then will fly to San Diego. From there, a long trip by bus starts. They won't know where they will be building or what family they'll be helping until about three weeks before they arrive.
Shaw shared some of his experience on his previous trip during a recent movie night at McBride Secondary. His brave team of youngsters was there as well, selling cookies and sweets – all proceeds going towards the Live Different Build trip. During his presentation he showed photos of kids playing happily around the newly built house, particularly enjoying a few steps of a staircase, a "playing ground" like they have never had before. You see, they have never seen a staircase before.
By the time the McBride young constructors arrive in the middle of the desert, in Vicente Guerrero (part of the Baja Peninsula), their building materials will be there, waiting for them. Other volunteers from Canada will ship the OSB and 2×4 studs and other necessary tools and materials to the site. They have just 10 days to finish the new house. Luckily, the future owners will give a helping hand as well. But a house is not truly a home without some furniture, some beds. Our messengers of hope will also provide appliances, new mattresses (a luxury for the locals), desks and school tools for the children so they can study. The refrigerator will be stocked with $350 value of food – a tremendous help for the family living in an area where it hasn't rained in 7 years! The place is so dry that they cannot even keep a garden or chickens, while the potable water has to be purchased from a local store.
While doing this hard construction work in dust and heat, the Live Different group also helps deal with the psychological and emotional needs of the students on members on the project, and they will get a bit of fun time too.
Let's continue to help our McBride young messengers of hope, and wish them all the best and good luck with their mission of compassion in Mexico!