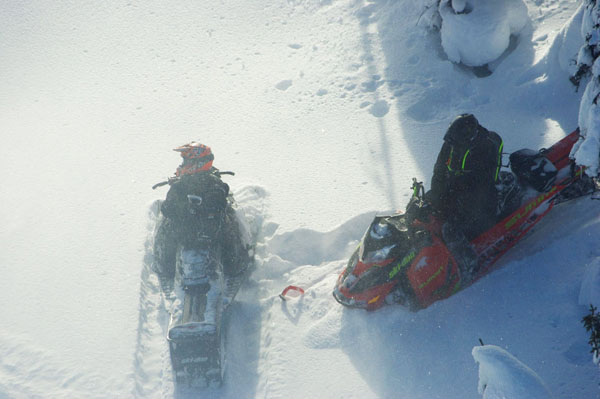 Photo: BC Gov. Snowmobilers caught in a caribou closure area near Blue River.
by LAURA KEIL
A popular snowmobiling area near Blue River is closed after the Province caught two snowmobilers in a Caribou closure area in the Berry Creek/Peddie Mountain area last week.
The snowmobilers were caught on camera by Ministry of Forests Lands and Natural Resource Operations staff during a routine helicopter flight to monitor compliance with caribou closure regulations, said Ministry spokesperson Sharon Dean. The sledders were at least 3km into the closure area.
Dean says the helicopter did not land, and the sledders have not yet been identified.
A facebook post by a Blue River snowmobile rental and tour company summed up the impact: "If you recognize these non-compliant riders feel free to personally Thank them for destroying the sport for the rest of us!"
The Ministry says there is no word yet on when the area may be re-opened. Dean says it's not clear how the snowmobilers came to be in the closure area, but she adds most caribou closure areas in the Thompson, Kootenay and Cariboo regions are long-established and are generally well-known within the snowmobiling community.
Dean says the caribou closure in the Berry Creek/Peddie Mountain area is signed, but operators have a legal obligation to adhere to caribou closure regulations whether or not they see a sign in the area.
The Ministry of Forests, Lands and Natural Resource Operations shares closure information with local recreational clubs and has detailed information about the closures at www.env.gov.bc.ca/fw/wildlife/snowmobile-closures/.
The site provides 60 detailed maps as well as digital snowmobile closure data (for uploading to GPS units), so it's easy for snowmobile operators to see where they can and can't ride.
The best way to avoid caribou closures is to download the closure areas onto a GPS device, says Curtis Pawliuk, General Manager of the Valemount Area Recreation Development Association.
For Valemount riding areas, GPS files are available on the VARDA website (for Valemount's main areas) or by visiting the link from the Government of BC. www.env.gov.bc.ca/fw/wildlife/snowmobile-closures/gpxdownload.html.
He says most snowmobile clubs also have information located in each managed snowmobiling area as well as signs in any warming shelters.
"It can be quite difficult to decipher exact linage from a map or image, and it can be equally difficult to sign and entire mountain boundary, so VARDA urges people to use GPS technology if they intend on getting the most out of the limited terrain by riding near area boundaries," Pawliuk says.
Ministry wildlife biologist John Surgenor says the vast majority of snowmobilers in these areas are respecting the closures and the ministry appreciates the efforts of the clubs and their members.
"One of the goals of the partnership with snowmobile clubs is to continue to find ways to reduce risks to mountain caribou while allowing snowmobilers to enjoy the spectacular recreational opportunities available in B.C.'s backcountry," he says.
A 2007 study published in the Journal of Wildlife Management noted that "if snowmobile activity continues to expand to more areas of high-quality habitat, caribou would eventually be displaced to poorer quality habitat. Caribou forced into poorer quality winter habitat may experience an increased risk of accidental deaths from avalanches in steeper terrain, increased energy expenditure required to move through deeper snow or steeper terrain, reduced forage availability, or increased risk of predation. Those factors would have negative impacts on population growth and compromise recovery efforts."