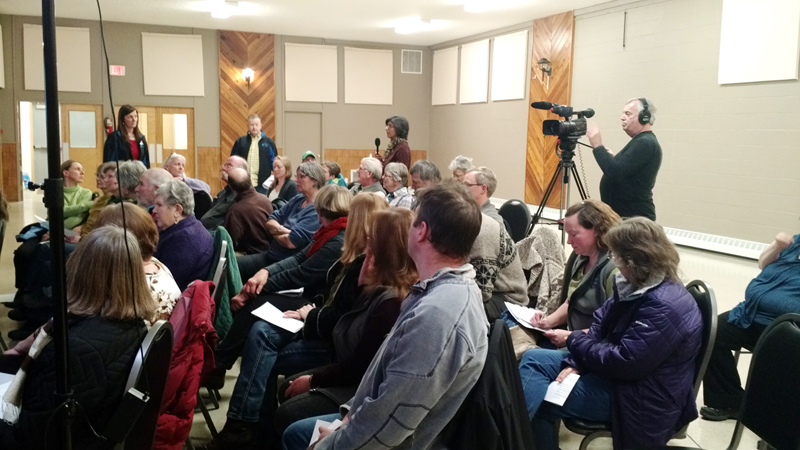 by KORIE MARSHALL
A local non-profit has issued a call to action to residents interested in supporting the effort to host refugees in Valemount. Responses at a public meeting last week were positive, and the Learning Centre board plans to make a decision on whether to go forward after Jan. 31st, the deadline for groups and individuals to let them know what they can offer for support.
The meeting on Jan. 7th at the Community Hall attracted about 35 residents, and is being broadcast daily on VCTV for those who weren't able to attend. Jared Smith, coordinator for the centre's English as a Second Language program, gave an overview of the current crisis in Syria. With over half of its 22 million residents currently displaced (about 5 million have already left the country and 7.5 million displaced from their homes but still within Syria's borders), some European countries near Syria are overwhelmed. Canada has committed to accept and fund 25,000 Syrian refugees, as well as additional privately funded refugees. Though this number may seem like a lot, Smith says Canada typically accepts between 25,000 and 30,000 refugees each year, and another 250,000 or so immigrants per year.
The Learning Centre board met in December, and is considering becoming a "Community Sponsor," one of three types of privately sponsored refugee programs in Canada. Working with a "Sponsorship Agreement Holder" would require less paperwork, says Riette Kenkel, Executive Director for the Centre, but it is unclear yet if there is any organization that could work with a group in Valemount.
Smith, Kenkel, and members of the board have been researching the processes, costs and options for sponsoring refugees over the last two months or so. As an example, in order to sponsor a family of four, the group would have to prove they have $20,000 for living expenses for up to a year for the family, plus $7,000 for start-up costs, like furniture, linens and winter clothing. Some of those costs can be covered by in-kind donations, but the sponsoring group must also be able to help provide social supports for the family, like helping them with completing forms for health insurance and child tax benefits, learning English, finding jobs, making friends, and learning how to access services available in the community. The goal is to help integrate the family into Canada, but also to help the family become self-sufficient. The sponsoring group has to be able to support the family for up to a year.
Smith says that since there isn't a particular family the Learning Centre is looking at sponsoring, they could apply to be matched with a family through the blended visa office program. That would mean the federal government would cover half of the year's expenses for the family, but that program is heavily over-subscribed at the moment, with many private sponsor groups in Canada still waiting to be matched with a family.
One thing they'd like to try to identify quickly, says Smith, is if there is a local charity that would be willing to partner with the Learning Centre so that tax receipts could be issued.
"A tax receipt would help," says local resident Jim Stewart, "but that is not why I would be donating." Some attendees at the meeting were already submitting their pledges of support in various ways.
For anyone interested in supporting the effort, the Learning Centre has some copies of their "call to action" available at various businesses and at the Centre. The call to action asks people and organizations to identify ways they are willing to help, like with monthly or one-time donations, in-kind donations, or various volunteer tasks, and any other thoughts, ideas or questions you'd like to pass on. The Learning Centre would like to collect the pledges by Jan. 31st so a decision can be made on whether to move forward.