by Goat Staff
---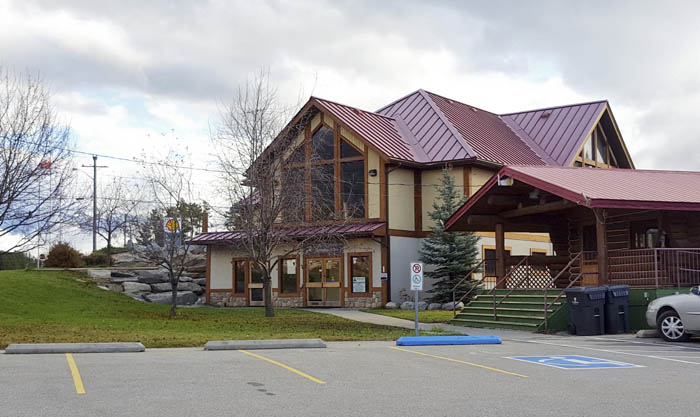 Mayor Owen Torgerson, councillors Hollie Blanchette, Donnie Maclean and Pete Pearson met on February 26, 2019 for their regular council meeting. Chief Administrative Office Wayne Robinson, Corporate Services Clerk Carleena Shepherd and Director of Finance Lori McNee were the staff present.
Public Comments
Eugene Jamin applauded the absence of in-camera items for this meeting. He also commented on a staff correspondence about not needing new venting equipment and urged staff to continue pursuing air quality.
Several people spoke to an upcoming item authorizing the CAO to deal with the lease for vacant space on the upper floor of 99 Gorse Street, since Valemount Learning Centre and Robson Valley Community Services had both expressed an interest in the same space. Board members and staff of the Learning Centre – Korie Marshall, Jennifer Scheller and Riette Kenkel said that they had approached the village in December for new space when they found out that they were likely losing their WorkBC contract. So, they were shocked to find out when they were ready to sign the lease in early February that Robson Valley Community Services is also wanting the same space. Rashmi Narayan spoke that the space should be available on a first-come first-served basis.
Air quality equipment
CAO Robinson said that staff had been in contact with Gail Roth from the Ministry of Environment who would be available only in April to offer more advice for air quality. However she said that the current equipment is capturing air quality data sufficiently and new equipment is not going to improve air quality. Roth suggested that the Village consider a Burn Management Plan for the area. Councillor Blanchette said that the Clean Air Task Force had been meeting about this issue and with back and forth emails to Gail Roth, could not come up with concrete information to make an application to CBT's Community Initiatives Program.
UBCM Regional Community to Community Forum
Council recommended staff to contact the Simpcw First Nation to request written confirmation that they plan to attend the Forum. They also recommended that staff apply for the UBCM – Community to Community Forum funding to host the forum after receiving confirmation that the Simpcw First Nation will attend. The funding is available for forums between First Nations and local governments to cover 50% of the cost for a maximum of $5000.
Municipal Auditor Appointment
Council approved appointing KPMG as the Village of Valemount Auditor for the 2019 and 2020 fiscal years.
Lease Agreement
Council authorized CAO Robinson to to enter into lease agreements on behalf of the Village for the vacant office space on the second floor of the Community Services Building located at 99 Gorse St. Councillor Blanchette said she has faith in the CAO to make the right decision since he is aware of the chain of events.
Columbia Basin Regional Advisory Committee Meeting
Council approved Councillor MacLean or her alternate to attend the Columbia Basin Regional Advisory Committee Meeting in Invermere, BC on April 15-16, 2019.
Mayor Torgerson – Reimbursement of Travel Expenses
Council approved that Mayor Torgerson be reimbursed for one night's accommodation and per diems for his attendance to a Southern Mountain Caribou Town Hall. Torgerson apologized that he was not able to get approval from council prior to attending the meeting because of the short notice to attend.
Municipal Insurance Request for Proposals
Council approved that staff issue a Municipal Insurance Request for Proposals for a three-year term with the option to renew for a further two.
Monthly Staff Meeting
Council approved CAO Robinson's recommendation to have a monthly staff meeting to improve internal communication and authorized to open the Village Office and Visitor Centre one hour later at 9:30 am on the fourth Thursday of each month.
Village of Valemount Public Art Policy
Council approved the Village of Valemount Public Art Policy #70. The policy comes after Valemount Arts & Cultural Society requested the Village's support to apply to CBT for a Public Art grant. According to the new policy, public art includes sculptures, mosaics, paintings, drawings, textiles and murals. The public art has to be approved by the village before installation. Any proponent of public art is responsible for its maintenance.
Village of Valemount Officers & Employees Bylaw No. 794, 2019
Council gave 1st, 2nd and 3rd Reading to Officers and Employees Bylaw. The bylaw allows the CAO and Director of Finance to negotiate and submit proposed leases and contracts respectively to Council for approval.
Council Reports
Councillor Pearson attended a Historic Society meeting. He also attended the Housing Stakeholders Design Charrette and Public Open House to discuss design and plans for an affordable housing and seniors housing development possibly on village property beside the secondary school.
Councillor MacLean attended the Valemount Entertainment Society meeting as well as the Housing Committee's Open House.
Councillor Blanchette attended the orientation for council members and a Child and Youth Mental Health outreach to the High School. She also attended meetings of Robson Valley Community Services, North Health, Valemount Senior Citizens Housing Society on behalf of the Elder Care Collaborative, Chamber of Commerce and the Housing Stakeholders Design Charrette and subsequent Open House.
Mayor Torgerson attended meetings for the Regional District, South Mountain Cariboo Town Hall, and the Robson Valley Region Open House in Dunster.
In-Camera
There were no in-camera items on the agenda.