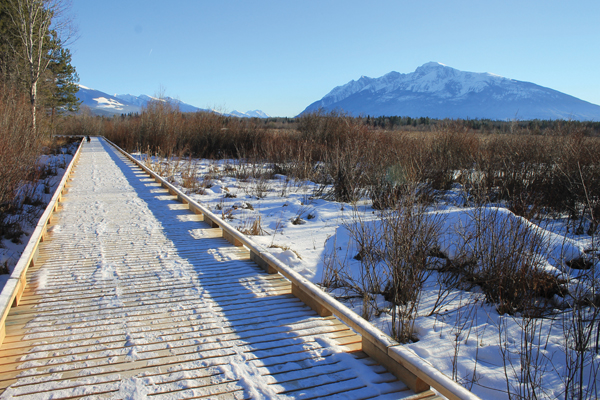 Photo: Korie Marshall – The final leg of the loop trail on Cranberry Marsh has been completed, offering some fabulous views of Canoe Mountain as well as wildlife.
by KORIE MARSHALL
Though not yet officially open, the boardwalk that completes the Cranberry Marsh Trail Loop was finished just before Christmas.
People making the loop used to have to walk on part of 17th Avenue and the end of Ash Street to bridge the trail sections between the Village's water treatment plant and the canoe launch and parking area on McKirdy Road. Now they can enjoy two sections of cedar boardwalk through the north side of the marsh, offering stunning views of Canoe Mountain.
The Cranberry Marsh/Starratt Wildlife Management Area, announced in March 2013, combines Crown land, Nature Trust of BC properties, and privately donated land totaling 319 hectares of mostly marshland. About two thirds of the total management area was donated as a sanctuary in 1971 by the estate of Robert W. Starratt, a former bush pilot and well-known member of the Valemount Community.
The marsh features exceptional nature viewing opportunities, very close to the village and next door to a major hotel, and offers eco-friendly trails and viewing towers highly suitable for birdwatchers.
Ducks Unlimited Canada also maintains a wetland enhancement project in the marsh, which includes dykes, nesting islands and water control structures. The marsh and its associated habitats are considered rare in this dry area in the Central Rocky Mountains and are also recognized as an environmentally sensitive aquatic area.
The boardwalk plan to complete the walking loop, which includes about 350 meters of trail and 570 meters of boardwalk on cedar pilings, was approved by the Ministry of Forests, Lands and Natural Resource Operations in 2012. The pilings were installed in early winter that year to minimize disruption to the habitat, but Valemount Tourism could not secure enough funding to complete the project at that time.
With funding from two years of Columbia Basin Trust's Community Initiatives Program (totalling just under $69,000) and from the provincial Resort Municipality Initiative program, the boardwalk and trail were completed in about six weeks over the late fall. Machines did most of the work on the trail sections, but the boardwalk joists, decking and curb railing were installed mostly by hand, says local contractor Don Beeson.
Silvio Gislimberti, Valemount's Economic Development Officer, said they had hoped the boardwalk would be completed by March 31st, 2016, but good weather allowed them to complete the project early. He says a grand opening will be held in the spring.