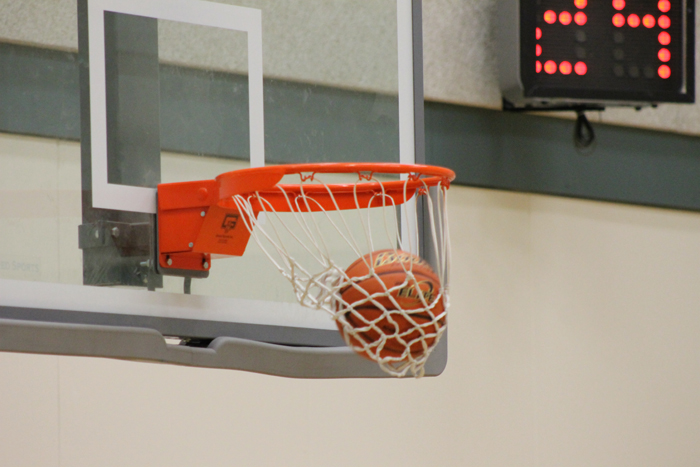 by KORIE MARSHALL
Valemount's Senior Girls basketball team traveled to Prince George last weekend, losing their first tournament by only two points in the final game, despite a short bench.
"Playing through the adversity due to injuries shows the talent, strength and depth of commitment of this group of athletes," says Coach Tim Nusse.
Nusse says the tournament at Kelly Road Secondary was a great opening competition for the season. In their first game on Friday night, the Timberwolves won 57-32 against Correlieu Senior Secondary from Williams Lake, a "AAA" size school.
Their second game on Saturday saw the Timberwolves win 56-23 against D.P. Todd Senior Secondary from Prince George.
The championship game saw Valemount face Cedars Christian School from Prince George, currently ranked #5 in the province. Valemount's bench was short through the entire tournament because of injuries, and the lineup for the championship game was 6 players, with a 7th injured substitute. Still the Timberwolves lost by only two points, finishing with a final score of 59-57 for Cedars Christian.
The Junior Girls will compete in Bariere this weekend (Dec 11th and 12th), and both the Senior and Junior Girls will host a home tournament on Dec. 18th and 19th. Then just about every weekend from January to early March is booked with tournaments, with Junior Girls and Junior Boys hosting here in Valemount on Jan. 15th and 16th, and Senior Girls hosting on Jan. 29th and 30th.
Senior Girls zone championship will be in Tumbler Ridge on Feb. 24th to 27th, and the top three teams will qualify for the provincial championship. The provincials will be held in Duncan from March 9th to 12th, and Valemount must qualify at the zones in order to attend.