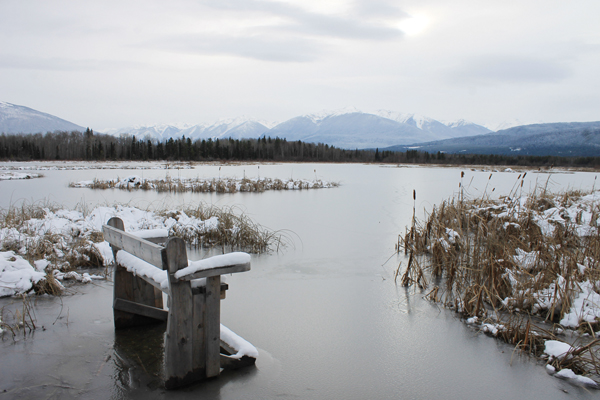 By Korie Marshall
A bench looks ready for lacing up your skates on Cranberry Marsh, though of course the ice is nowhere near thick enough yet this year. But folks interested in skating on the marsh this year may have to clear the snow themselves.
In past years, Valemount Tourism has approved up to $4,500 to maintain the marsh for skating once frozen, says Marketing Coordinator Jennifer Robinson. But this year the Tourism committee decided not to fund the program.
Robinson says the weather has been inconsistent over the past two years, and with constant warming, snowing and cooling again, the marsh was often un-skateable. She says there are also very few users from out of town.
Barb Janzen and Patricia Thoni, members of the Yellowhead Outdoor Recreation Association, say the change won't have a big impact on local recreation opportunities. They both say YORA members have their hands full this winter with grooming two cross-country areas and Five Mile Hill, but if Mother Nature provides good conditions, any interested users should easily be able to keep the ice clear of snow by hand.
Tourism Valemount has also cancelled funding for the annual sled drag races this year. For the last four years Tourism Valemount has hosted an annual winter festival, including snowmobile drag racing sanctioned by Straightline Snowmobile Racing Associate (SSRA). The festival usually included other events in conjunction with other organizations like a snowmobile poker run or Mountain Mania 8, a conference for an online forum, held in Valemount last winter.
Robinson says the Tourism Valemount committee is moving in a different direction, and plans to use the one per cent Resort Municipality matching funding to support an event on Valemount's mountain bike trail system on Five Mile Hill. The event won't be set until Phase 3 of the Mountain Bike Master Plan is completed, which is funding dependent. The Valemount Outdoor Recreation Association (YORA) initiated the mountain bike trail system project which is now under the coordination of the Valemount Area Recreation Development Association.