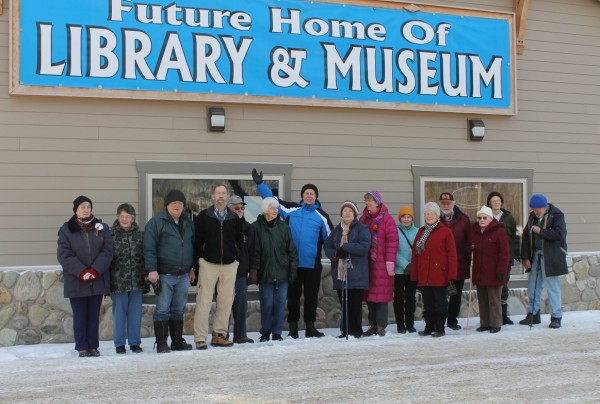 By: Korie Marshall
The Regional District Board has approved funding to study the potential purchase of a new building for the McBride's library and museum. The board has also approved making a conditional offer on the building at 521 Main Street, contingent on the results of the feasibility study.
At its June 2015 meeting the board for the Regional District of Fraser-Fort George approved staff to work with a local steering committee to evaluate the feasibility of an expanded library and museum facility in McBride. The McBride and District Library and Valley Museum and Archives have been working together over the past several years to purchase a new building, and maintain the property on Main Street is the most economical solution for much needed additional space.
The steering committee met with Regional District staff in June to talk about the process and the feasibility of expanding the space for the two groups who currently share two buildings on Dominion Street.
Librarian Naomi Balla-Boudreau told the Goat this summer that members of the two organizations met in May to discuss an evaluation of properties that have come to market since the Shoop Report, grant opportunities, taxation, ownership models, and methods for garnering community input.
In mid-July, the Valley Museum and Archives announced it had purchased the two empty lots next door to 521 Main Street, with support from the Library. Joel Zahn, chair of the committee established to look at options, said the two lots were originally being sold as a package with the 521 Main Street building, and were in the original expansion plan as green space. He said there is also potential to build a new library on those two properties if the group is not able to purchase 521 Main.
"We hope that we won't have to do that as there will be considerable cost over and above what purchasing a pre-existing building would be," said Zahn in July. Funding for the purchase came from unrestricted funds gathered through multiple fundraising efforts, and any funds designated specifically for the purchase of 521 Main Street remain untouched, said the group.
A staff report to the Regional District board says the conditional offer to purchase would be contingent on the results of the feasibility study identifying 521 Main Street as the most feasible option for the new "Robson Valley Learning and Exploration Centre", and a referendum in favour of establishing a new service for the purchase and maintenance of the new facility. The board has approved up to $15,000 from the feasibility study reserve fund to cover costs such as inspection of the proposed site and the preparation of a conditional offer to purchase. The feasibility study is expected to be completed and presented to the Regional District board at its October 15th, 2015 meeting.