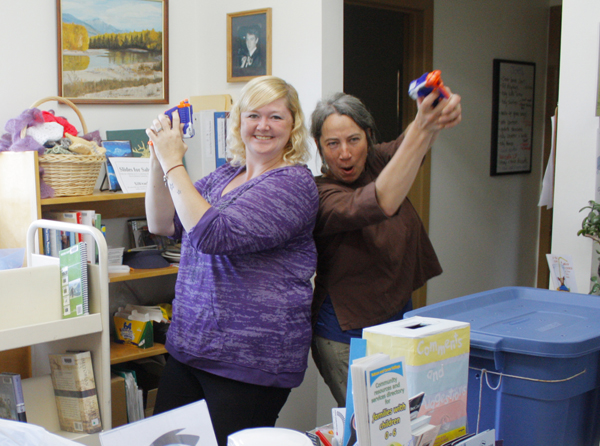 By: Frank Green
Starting later this month, the McBride and District Public Library will loan out seeds for people to plant. It will also have nerf guns, and host events for kids to shoot them at each other amidst the book shelves.
Lots of libraries are doing these sorts of things. They represent the latest wave in the development of libraries, explained librarian Naomi Balla-Boudreau.
"Libraries are community centers for whatever the community needs," she said.
And, crucially, Balla-Boudreau isn't going to tell the community what it needs. But it definitely needs more than books.
"It's all about improving people's lives," said Kelly Thompson, the new chief librarian at the Renfrew Public Library in Ontario, who's introduced everything from bikes to snowshoes at her past gigs. "How can we get people involved in the community if they can't afford money to purchase this stuff?"
One way of understanding how libraries came to lend out nerf guns and seeds is to look at the history of the word "literate." Back in the 19th century, you were only literate if you read literature—serious, important books. Eventually, the word changed to mean knowing how to read and write. Today, there's no longer any single definition of literacy, according to the United Nations. Literacy is a matter of context, of being able to happily function in our daily lives.
McBride's Open Gate Garden, for instance, is managed through the village's library because it's a literacy project in the modern sense of the word: it gives people knowledge to help them do rewarding things.
A farmer's mastery of their land, a mechanic's of machines, or a gossip's of their town make those people literate, whether or not they can spell their names.
Libraries have changed in the same sort of way. At first they were cathedrals of hardcover volumes—literary literacy.
Over time, once-scorned pulp novels arrived on the shelves because, after all, they're books—word-based literacy.
Now we're into the age of the hammer and the binoculars and seeds—life literacy.
"It's an evolution," said Balla-Boudreau, who added that the changes are also about making the library more accessible.
And nerf guns? "They're the fun end of the stick."