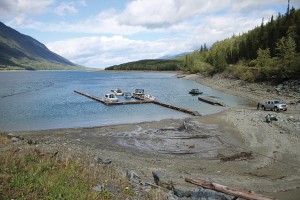 By Korie Marshall
Kinbasket reservoir reached its maximum this year of 2463.8 feet – over 11 feet below normal full pool – on July 15th. That's not only much lower than usual, it was also much earlier.
Last year Kinbasket peaked at 2473.7 feet on Nov. 9th. Two years ago the reservoir was surcharged (brought above the normal full pool level) in September by about one foot.
Other reservoirs in the Columbia system didn't reach their maximum either, primarily because of drought conditions in the US portion of the Columbia Basin. Dry years kick in "proportional draft" provisions in the Columbia River Treaty with the US, and BC Hydro says it ran Mica generating units harder than normal through the spring and summer, both to release the required water and to help support Arrow reservoir levels. Since April, BC Hydro says the discharges from Kinbasket – the largest reservoir in the system – have been about 230 per cent above average. Staff on a recent conference call said they expect Mica to be running at 90 per cent of capacity throughout October and November. The reservoir level on Sept. 14th was 2451.2 feet, almost 24 feet below full pool.
Kinbasket is current forecasted to reach a low of 2353.6 feet at the end of March, 2016, and then start filling again. That is about 15 feet higher than the low in 2001-2002, after an even drier year than this year.