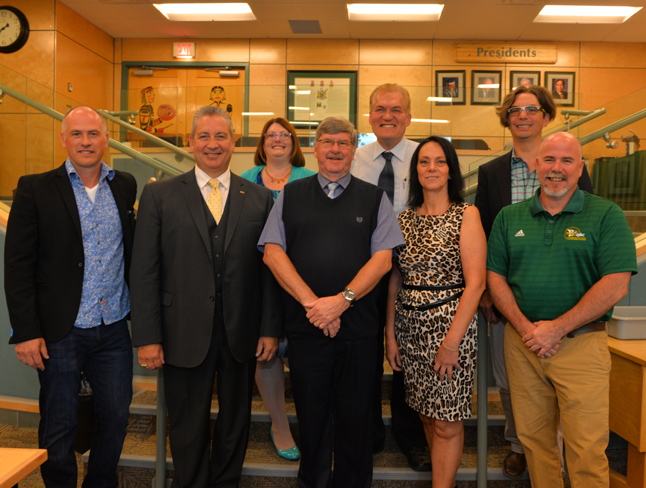 By: Korie Marshall
It won't be in effect for the coming year, but students at Valemount and McBride secondary schools will soon be able to take university level courses while still in high school in their own communities.
"It is a net-positive for the school, and a huge positive for the kids," says Lee Karpenko, Principal of Learning Innovation at School District 57, who is negotiating these agreements on behalf of the school board. "They get a free university course out of it while they are in their home community."
The first agreement was just finalized with the University of Northern BC, offering Grade 12 students in the district the opportunity to take university-level courses through UNBC. The credits are applied towards both their high school graduation and a future university degree. Students can choose up to three first-year courses from a broad range of departments as part of this dual credit collaboration, one in each of the September, January and May semesters.
SD57 became one of the first public boards to endorse the idea of a northern university back in November 1987. This new collaboration aims to enhance the academic success of students and ease their transition into a post-secondary environment, says a recent release from UNBC.
Robson Valley students won't be able to take advantage of this new program just yet because the courses are only being offered face-to-face this year, but that is likely to change soon.
UNBC recently announced they've begun offering online courses through their Continuing Studies program, an important growth moment for the 25-year old institution as it aims to provide a wide range of learning mediums for students and industry. Karpenko says it's the goal of Troy Hanschen, Registrar at UNBC, to provide all first year courses to high school students, either through distance education or face to face. And now that SD57 has a working relationship with the university at the local campus, the next step is to see what opportunities there are for rural students. Karpenko says UNBC and northern colleges are more than willing to look at that.
SD57 is also working on other agreements with the College of New Caledonia and Northern Lights College right now, says Karpenko.
"We are trying to get some opportunities for rural kids as well," he says, though it may be a little different than the agreement with UNBC. For example Northern Lights College in Ft. St. John offers small cohorts to support the community, and the kids log on to work with a university instructor and take a first year course while they are still in high school. Karpenko says the student's school still gets to claim the money for offering the course, and just has to pay the tuition on the student's behalf. Because high school courses are funded at higher levels by the province, it also works out to a small net benefit for the school, so it is a benefit to the students, without being a financial drain for the high schools.