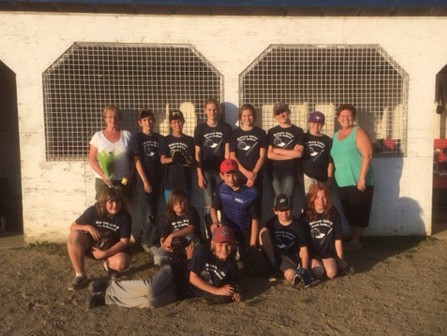 Photo and caption: Kathy Molendyk
On Monday, June 22nd the Robson Valley Youth Softball (ages 10-14) ended the season with some fun games against Valemount. McBride had enough players to form two teams which were sporting their new team jerseys that were generously donated by Dave and Gail Shantz and will be used for future players.
The games were lots of fun and followed up with a BBQ that was hosted by the "Live Different" participants as a fundraiser, who will be travelling to Mexico in March 2016 to help build houses.
Thank you to Marty Kelly, Devyn Kelly and Logan Drader for being the umpires at the games and to Deb Traquair for all her coaching and organizing skills throughout the season.
On Tuesday, June 23rd the Robson Valley Youth Slo-Pitch (ages 7-9) ended their season with a game against the parents followed up with a BBQ hosted by the "Live Different" group. Fun was had by all!
Back row left to right: Deb Traquair, Liam McFarland, Kiernan Ingles, Braxtyn Shawara, Sydney Rohatynchuk, Sally Buck, Londyn Shawara, Kathy Molendyk
Front row, left to right: Cailey McFarland, Hunter Clinton, Theiden Ingles, Lucas Franke, Kyra Littlechild and in front Tanner Molendyk
Missing from photo: Brad and Troy McFarland, Connor and Ethan Quam, Alison Moore, Taylor Traquair, Tristan Alspaugh, Chayse Shawara.