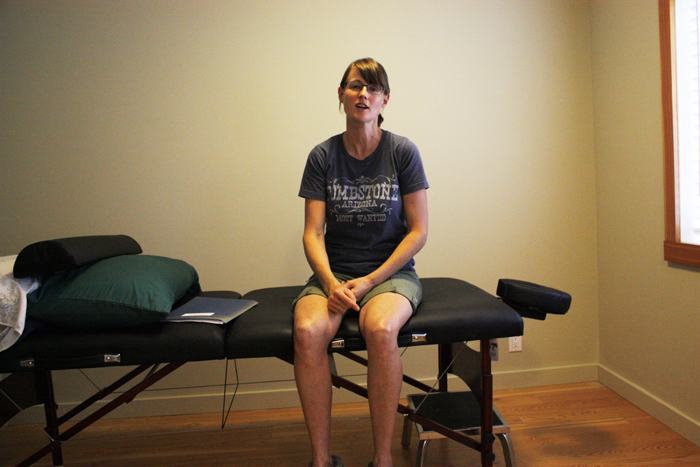 By: Frank Green
Bring your sore muscles, your aching joints, your benign paroxysmal positional vertigo to 900 Mountain View Road. The physiotherapist Michelle Read just moved in there, and she will help you, and teach you to help yourself.
"I can do all kinds of relaxing, nice things here. What has a bigger impact is what [patients] do at home," she explained. "I like to do a lot of education."
After more than two decades in Prince George, the Dunster-born Read decided to return to the land of mountains and farms and part-time work. She's glad to be back in the great outdoors. And she's looking forward to treating her patients one-on-one. Read didn't get to do that in big city private clinics where she sometimes treated more than half a dozen people all at once, skittering from bedside to bedside, which she felt compromised her work.
"It was nuts," Read said.
Now she plans on seeing local patients one at a time on Mondays, Tuesdays, and Fridays. She can set aside more time for her cows and horses and barn cats that way.
You don't need a doctor's referral to see her, and she said that insurance covers her services. And she does house calls if you physically can't get over to her house—she treats patients in a small, simple room across the hall from her living room. And people are already clamoring to get her hands on them.
"I was surprised that the phone started last week," said Read, who only started taking patients on Monday. "It was great."
She can be reached at 250-569-0053