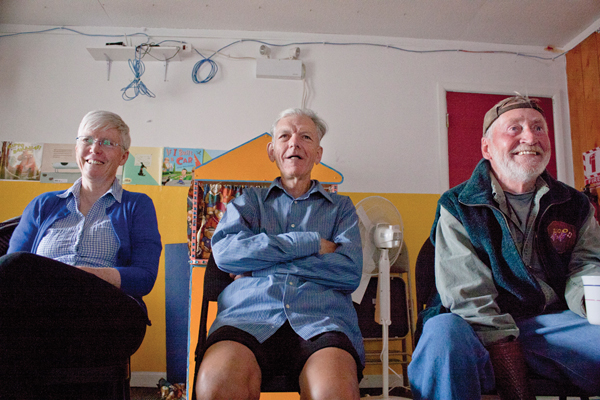 By: Frank Green
Technology charges ahead, and older people are sometimes left behind. But the new North of 50 Film Club is looking to catch them up. It just wrapped up a three day workshop for older McBridians on making their own movies. They learned about equipment, workshopped ideas, and got down the basics of film editing. And now they want to unleash their new knowhow on the Valley.
Sheilagh Foster's already the town videographer, often taping the council meetings for the village government. With her new skills, Foster said she wanted to record the stories of local people.
"I'd like to get into the lives, the artifacts of some of the older people in the valley," she said. "Maybe I could make the village council videos a little more interesting," she joked.
There were hiccups, like when Vern Pawloske accidentally discovered the zoom on the camera, and small triumphs, like a beautifully framed shot of a flower basket.
Erin Howe and Bridget Uhl led the workshop, which was also held in Dunster and Valemount, and they have another one coming up in Dome Creek. They did it with funding from the government's New Horizons for Seniors program, and a bit of help from the Dunster Fine Arts School, which is donating the space for the Club's equipment. Any member of the Club—and to join you just have to attend one of the free workshops—can borrow tripods and cameras for their own video projects.
About 20 people did the workshop, including those signed up for the upcoming one in Dome Creek.
"It's a shame to have it only accessible to the younger generation," Howe said of video technology. "We wanted to give people the tools to capture the things they wanted to capture."