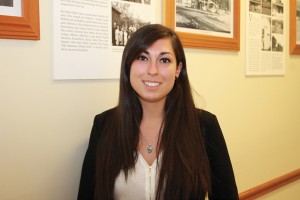 By Korie Marshall
Born in Kitimat, Danielle Dysserinck has spent time living in Williams Lake and Port Hardy and knows McBride well. She also remembers camping in Valemount as a child, but part of the reason she chose to come to Valemount for the Local Government Management Internship was because of the staff here and the Chief Administrative Officer, Anne Yanciw.
"Anne is a great mentor, her dedication and passion for this area is clear," says Dysserinck. She says the whole team at the Village office creates a very positive work environment that focuses on people's strengths. She was drawn to a small community because of the range of thing she could learn.
"You get to do a variety of things, be immersed in the community."
Dysserinck started her year-term as intern with a month working at Northern Development Initiative Trust, then came to Valemount for June 1st. The internship is sponsored by NDIT, and it is open to anyone across Canada, she says, but the program places emphasis on those who want to continue working in small and northern communities – it's about giving them opportunities, and also about expanding capacity in northern communities.
Dysserinck says she loves the tourism aspect of the Robson Valley and the outdoors. She's already done some hiking at Mount Robson and other areas, and made it out to experience Valemount's Kick Off the Summer event and Pioneer Days in McBride.
She's already at work on an education program for the schools with Valemount's bylaw enforcement officer.
"It's important for kids to learn where their taxes go, and how local government works," says Dysserinck. The program will be activities-based, and she's not sure if other communities have started a similar program, but she thinks it would be useful in any community.
Dysserinck was involved in event coordination and recruitment at UNBC, and was the vice president of finance for her under grad society. Her internship at the Village ends next spring.