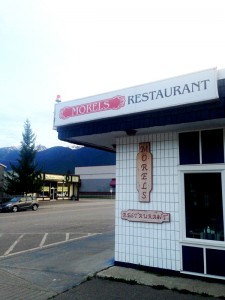 By Frank Green
McBride was in shock last week after Morels abruptly shut its doors, just two years after co-owners Anastasia McPartlin and Julian Randall opened them. Huevos rancheros, veggie burgers, and about four and a half full time jobs have left Main Street.
But the closure was a long time coming. Unexpectedly large bills for utilities and insurance, among other things, and not-quite-high-enough revenues swamped the restaurant, which never got its head above water.
"We've been having a cash flow problem from day one," said Randall, who helmed the kitchen. "It would seem sudden to the general public, but it's something we've been struggling with for a while."
The pair haven't paid themselves anything for the 60 to 90 hour weeks they've put in the past two years, and Randall said his biggest vacation was the time he took off to get nasal surgery.
Despite the unhappy ending, Randall and McPartlin said they were proud of the restaurant they built, of the service and the decor and the food. And they said they were grateful for the patronage and support of the people and McBride.
"The money part hasn't been positive," McPartlin said. "But everything else has."
They've got tentative plans to reopen for a goodbye meal, so stay tuned.