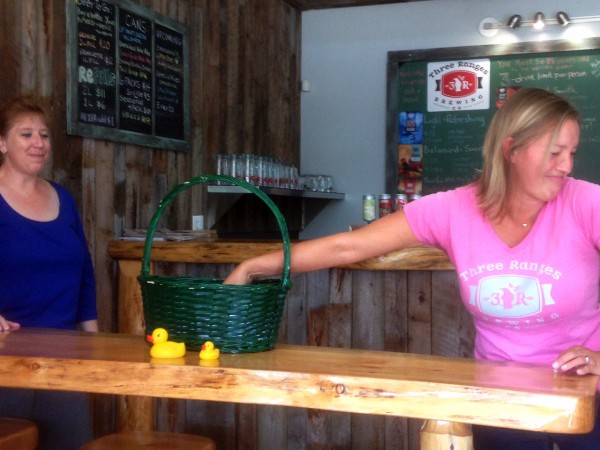 By: Korie Marshall
The water levels in Swift Creek would have been fine for the daycare's annual Duck Race on Sunday, but this time volunteers were short. So the Valemount Children's Activity Society drew names for winners.
The duck race was planned as part of festivities at George Hicks Park in early June, an annual fundraiser for the society that runs Valemount's only daycare. Usually the numbered rubber ducks are released upstream and volunteers catch the ducks at the finish line at the park. But water levels in Swift Creek were unusually high early in the season and the race itself had to be delayed twice.
The race was rescheduled for July 19th, but difficulty finding volunteers again meant a cancelation, so the society drew names for the winners instead.
Sandy Salt, manager for the society, had help from staff at Three Ranges Brewing company, one of the locations tickets were being sold, to draw the names, with $200 for first place going to Jessamie Bromley; $100 for second going to Janey Weeks; and $50 for third going to Malyck Travers-Methot.
"A big thanks to everyone that purchased tickets," said Salt, "and thank you to Infinity, Three Ranges Brewery, Unique Boutique, Valemount Public Library, and VCAS parents and staff for all your great efforts selling tickets."
Salt says total sales for the race were $625, with $230.56 net proceeds raised for the society.