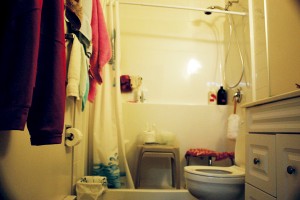 By Frank Green
Northern Health recently dropped the baseline for bathing the most infirm people in its care in the Robson Valley, the Goat has learned. They used to get a minimum of two baths each week. Now they're down to one.
And that may leave some people feeling unclean.
Edna Monroe started getting help bathing about ten years ago, after treatments for breast cancer and a brain aneurysm made her feel unsteady in the tub. She was getting three baths a week when a supervisor found out, and moved to cut her down to two.
"He said, 'Oh no you can't have three baths,'" said Monroe, 73.
The supervisor couldn't be reached for comment because Northern Health bars most employees from talking to reporters about their work.
Monroe asked her aide to argue her case, and ultimately got to keep her baths.
"I need them," Monroe said. "I can wring out my hair and fry eggs," she added, describing life after a couple of days without shampoo.
But that's not to say she necessarily should have gotten the extra care, local Health Services Administrator Keltie Carmichael said. Demand is greater than Northern Health can supply.
"I'm sorry that the lady is oily or greasy. But at the end of the day that's not life threatening," Carmichael said, and added that Monroe's three weekly baths was the most she had ever heard of. "We have to watch the difference between the needs and the wants."
The recent change on bathing minimums is for people in residential care, who live in Northern Health facilities and get 24-hour attention. Monroe was in community care, and not residential care—aides came to her apartment to help her bathe, and she otherwise lived independently. Nevertheless, her story shows how services could get pinched.
Northern Health says it is still fulfilling people's basic needs. No one in long term care in the Robson Valley has had a bedsore for at least as long as the 18 months Carmichael has worked here, she said.
And the one-bath-per-week baseline is far from the extent of the bathing its clients get. Northern Health reps stressed that people get as much help bathing as they need. And there's a wide range of needs.
An aide might come three times a day, seven days a week for someone who's incontinent and unable to clean themselves. Someone else might be able to handle their own hygiene, save for a weekly bath to clean hard-to-reach things like their heels and back.
("Baths" can also be sit-down showers—crumpling oneself up into a bathtub and then standing up again is painful for some older people.)
But the lowered minimums could mean more unpleasantness for people too sick to protest.
During the ten years Elizabeth Bartlett lived in residential care, Donna Perkins remembers visiting to cut her mother's thick, silvery hair. Perkins also remembers her visits several days later, when she'd still find trimmings on her mother's body. That troubled her.
"She couldn't speak for herself," Perkins said of her mother—Barlett, who died five years ago, suffered from Alzheimer's. "Unless there's a strong family advocate there is no voice."
The Goat was unable to get a comment on residential care services from a resident. Dementia isn't uncommon among residents.
Still, while having little as one bath in seven days may sound unhygienic, people's bodies and habits can change as they age. Bathing is tougher on the thinning skin of older people. And older people can be less active—and therefore less sweaty, less smelly, and less in need of soap.
Moreover, some older people grew up with different norms around hygiene. In Canada, taking a bath just once a week was unremarkable at least as recently the 1940s, said Katherine Ashenburg, who wrote The Dirt on Clean: An Unsanitized History.
And so Gladys Shuell wheels her walker over to the sink each morning, sits down, and gives herself a sponge bath. She does it on Wednesdays, too, when an aide also comes to help her bathe. And that's plenty.
"I don't need a bath that often," said Shuell, 90, who receives community care, and isn't in residential care. "I don't like water."
But Shuell still felt the staffing pinch last month. In a mishap, apparently unrelated to the lowered bathing minimums, Shuell was one of several people who missed their baths, which she said hadn't happened before. It made her feel "sticky."
"You just feel everything isn't quite right," Shuell added.
Carmichael, the Health Services Admin, said three of McBride's five health aide positions are currently empty. In the meantime, she said she's bringing in staff from neighboring communities and "authorizing overtime, double overtime, and even triple overtime."
The missed baths and lowered bathing minimums come at a time when many aides feel they're under too much pressure to do their jobs properly, according to a survey last fall from the Hospital Employees' Union, which represents 15,000 aides. Almost three out of every four aides say they have to rush through their work. And more than half said they don't have enough time to "adequately meet the needs" of the people they serve.
This all goes back to the province of British Columbia underfunding the healthcare system, argued Neil Monckton, a communications officer with the union.
"It's all trickling down one way or another," Monckton said. "Is it impacting care? Yes it is."
As for Monroe, she no longer uses Northern Health to help her bathe. But she said the experience taught her to rinse her hair with vinegar. It cuts the grease.