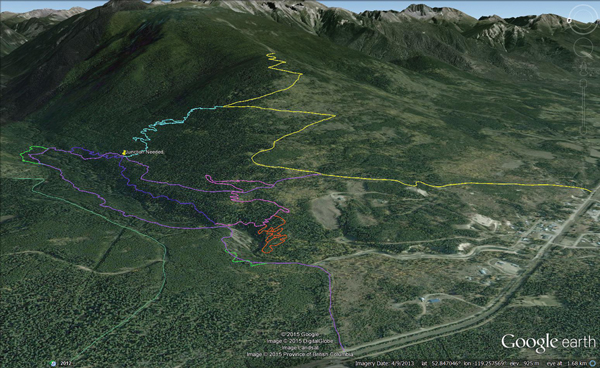 By: Korie Marshall
Construction work on five trails, the first phase of the Five Mile Hill trail system in Valemount, is starting and will continue this summer. And a workshop is coming up at the end of May to help local volunteers build and maintain the trails professionally.
Curtis Pawliuk, manager for Valemount Area Recreation Development Association, says two companies will be sharing the work for Phase 1 of the project. Cornerstone Excavating and Contracting out of Kimberly will be doing two-thirds of project. The company specializes in landscape, hardscape and trail building, and will be starting early June.
Local company Robson Energy Services is doing the other third of the project. Pawliuk says Andreas Thoni of Robson Energy Services is currently working to finish up the ramp approaches for the new suspension bridge recently completed over Swift Creek, and will be working on the rough-in for the trails after that. Work by both companies will be ongoing throughout the summer.
The trail system on Five Mile Hill was proposed by Yellowhead Outdoor Recreation Association in 2011, spearheaded by member Andreas Thoni. Phase 1 of the project received approval from the Ministry of Forest, Lands and Natural Resource Operations' Recreation Sites and Trails group last spring, and YORA has partnered with Valemount Community Forest to improve the access road and coordinate logging activities within the VCF's tenure area. Late last year after some partnerships on other projects, VARDA took over management of the trail system project.
Work this summer on Phase 1 is funded by the National Trails Coalition and two programs from Columbia Basin Trust, both the Community Initiatives and Affected Areas program and the Community Development program. Phase 1 will focus on the completion of the Swift Creek Northern Extensions, a climbing trail, the Swift Creek technical zone, an intermediate downhill mountain biking trail and the Swift Creek southern traverse.
At the end of May, local volunteers will also be learning to build and maintain trails with the help of a professional. VARDA is hosting a two-day workshop on May 30th and 31st, sponsored by Recreation Sites and Trails Branch. Volunteers who want to learn to build trails professionally and help maintain them properly will get training and some hands-on experience from professional trail builder Joel Pirnke of MTB Works in Revelstoke. A workshop is also being held in McBride on May 23, and there is another scheduled for Clearwater on May 24th.
Greig Bethel, spokesperson for the Ministry, says the workshops are aimed at providing skills to local club members and mountain bike riders to they can maintain their trails in a sustainable manner, keep maintenance costs down, and increase local pride in their trails. Workshops will cover local tool selection, the cutting of the trail right-of-way, construction of full-bench trail tread, bermed or in-sloped corners, climbing corners, and the proper design and use of drainage features to minimize trail erosion, the use of rock for retaining walls and armouring, and the use of wood for construction of technical trail features.
"The workshops will be held entirely in the field at the site of new trail construction, or where an older trail needs improvements and upgrading," says Bethel.
Pawliuk says there is some interest from Jasper, but preference will be given first to Valemount area residents, and he doesn't think there will be any problems filling the 10 spots.