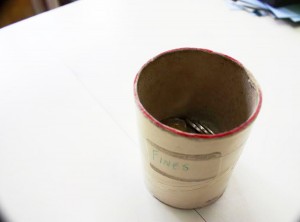 By: Frank Green
For a nickel, you can buy a piece of gummy candy from the Dunster General Store, or you can return things to McBride's library a day late.
The late fine has been five cents for as long as anyone can remember, but the McBride District and Public Library still has no intention of upping it. That stance is reflective of the growing doubts—both practical and philosophical—about the fines. Some libraries have scrapped them entirely, fearing that they drive people away and compromise their mission of making books accessible.
"I remember stopping coming to a library because my fines had piled up," said McBride's librarian Naomi Balla-Boudreau, recalling a $20 debt she's never paid the Deep River Public Library in Ontario. "We want people to keep coming."
Still, many see that five cents, and larger fines like it, as a library's lone defense against the negligence or selfishness of its users. Valemount's Chief Librarian Wendy Cinnamon said the fines are for the sake of the people left waiting when, say, someone doesn't return the coveted Hunger Games DVD on time.
But libraries also levy fines because they need the money.
"In an ideal world, that wouldn't be something you have to rely on," Cinnamon said of revenues from fines.
Library spending in British Columbia actually rose from $170 million in 2002 to $230 million in 2013, according to government data adjusted for inflation. Valemount's expenditures rose from $110,000 to $150,000 over that period, and McBride's went from $130,000 to $170,000. But librarians say the increases are more than swallowed up by all the new things libraries offer. For example, there were no "electronic materials" circulating before 2007.
"We're being asked to do new and different things," Balla-Boudreau said. "We count where every penny goes."
Getting rid of fines means taking a financial hit, but advocates say it transforms a library's relationship with its patrons for the better, and draws them in at a time when fewer people are using them.
BC libraries had about 2.1 million active cardholders in 2013, according to the BC dataset. That's down 18 percent from 2.6 million back in 2002.
The Grand Forks public library ended late fines as an experiment in 2014, one it's now extending through this year. Director Avi Silberstein said the decision was about ditching a "punitive, paternalistic model" that could shut out the people who need the library most: poor people and young people.
The main downside of the change was giving up about $3,000 a year in revenue, he said. And people are also taking longer to return things. Silberstein explained that the library has about 3,000 active members, and there were about a thousand of them who used to rack up fines. Now, without fines, there are still about a thousand people returning things late, but now they return them roughly a week later than they had. One-week delinquents now take two weeks, two-weekers take three, and so on.
Silberstein said the benefits are a warmer relationship between the patrons and the people behind the desk, and that borrowing is up very slightly—which is noteworthy because Grand Forks' circulation fell for years, from 94,000 items in 2002 to 80,000 in 2013. Silberstein considers the experiment a success.
"It seems like the right thing to do," Silberstein said. "As a public library, we try to focus on equitable access."
Others disagree. The Windsor Public Library dumped late fines in 2012, but restored them about two years later, citing the hundreds of thousands of dollars of lost revenue and exasperated users. And people returned things late more frequently, according to a 2013 press release that didn't have any specific data.
Instead of fines, the library barred people from borrowing materials if they had even one item out that was one day overdue.
"The vast majority of the public said 'We are glad they're back. You're protecting the public's investment in resources. We get it,'" said the library's CEO Kitty Tope.
But people increasingly use libraries to borrow digital resources rather than physical ones. There are no fines on digital loans—they just disappear off of a devices when they're due. And that's shrinking revenues from fines.
The shrinkage reached a critical point in 2012 for Vancouver Island University. The library stopped fining people for everything except overdue reserve books that year. It had only collected $20,000 in the 2011/12 school year, down from $65,000 in 2004/05, with an equally steep drop in the circulation of physical books. Librarians there decided it would be best to seize the public relations boost from ending fines while there were still fines to forgive. They also hoped the move would make people take out more books. That hasn't happened. But librarian Kathleen Reed said the move is an important part of changing the perception of libraries as places where people get shushed and scolded.
"Just rip the bandaid off," Reed said. "And make it a more welcoming environment."