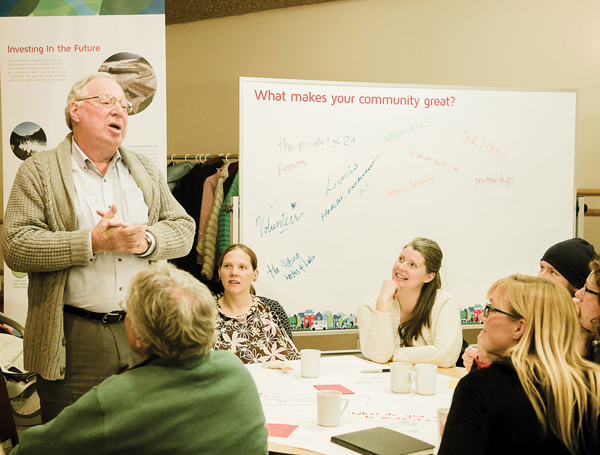 Submitted by CBT Communications
From September 2014 to February 2015, Columbia Basin Trust visited communities throughout the Basin to ask residents what's important to them and how the Trust should focus its efforts. Residents are now invited to read summaries and view photos of these community sessions at ourtrustourfuture.cbt.org.
Trust staff connected with residents at 55 community workshops and meetings, plus gathered feedback online and through mail-in workbooks. About 3,000 people participated, generating over 17,000 thoughts and ideas.
"We thank every person who gave their time; your input will not only help shape the Trust, but help shape the future of our region," said Neil Muth, Columbia Basin Trust President and CEO. "We are currently reviewing the information to develop recommendations on where the Trust should focus its efforts in the next five years."
While residents brought forward a range of themes and topics, one that was mentioned most frequently across communities was economic development and diversification. Other topics include agriculture, healthy food and food security, arts and culture, community infrastructure, community transportation alternatives, education, energy efficiency and sustainability, and recreation and physical activity, among many others.
The Trust also heard that it should consider additional methods to support communities. These include taking a more strategic, focused approach on specific Basin wide issues and innovative ways of investing in Basin projects.
"While we would like to take action on all the ideas submitted, we simply don't have the resources," said Muth. "Our current efforts will enable us to hone in on measurable, achievable priorities. Residents can expect to have another opportunity to engage with us in the next few months with some draft recommendations, and then we'll finalize our strategic priorities this fall."
Columbia Basin Trust supports efforts to deliver social, economic and environmental benefits to the residents of the Columbia Basin. To learn more about the Trust's programs and initiatives, visit cbt.org or call 1.800.505.8998.