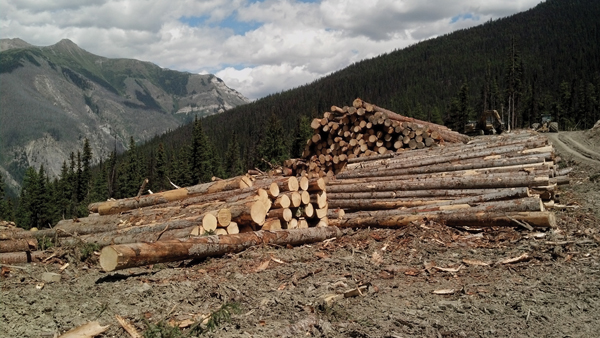 By: Korie Marshall
Though the Ministry has not yet responded to questions from the Goat, the apportionment decision for the Robson Valley Timber Supply Area has been made.
Online research yields a report from the Ministry of Forests and Range Apportionment System dated April 16th, 2015. It shows reduced numbers for replaceable forest licences, BC Timber Sales and Forest Service Reserve, but more for Community Forest agreements and a new partition for First Nations Woodlands Tenure.
The new annual allowable cut (AAC – the total amount of lumber to be cut in the entire region in a year) for the Robson Valley was announced last year, and the apportionment – the Chief Forester's decision on which types of licences will get how much of the cut – was supposed to be made by last fall.
The new AAC was set at 400,000 cubic metres, effective May 2014, with 45,000 of that being allocated to specific, harder-to-access areas. The cut was last set in 2006 at 536,000 cubic metres, but had been lowered to 481,000 because of changes like new Community Forest agreements and the creation of wildlife conservation areas. In 2006, replaceable licences had been set at 283,930 cubic meters (just over half of the cut), with 261,446 of that committed to two of Carrier Lumber's licences. The remaining 22,000 cubic metres or so was split roughly in half between Stella-Jones Canada and Hauer Brothers Lumber. The new total for replaceable licences is 203,466, down about 28 per cent, but still slightly over half the total cut.
Non-replaceable licences have been removed (previously 81,468 cubic metres) as has a volume for Forest Service Reserve Small Scale Salvage (1,262m3). The volume for BC Timber Sales has decreased from 108,980 to 93,649 cubic metres, and the volume for Community Forest Agreements has increased from 55,000 to 75,108 cubic metres. A new category offers 25,000 cubic metres for First Nations Woodlands Tenure.
Craig Pryor, manager of the Valemount Community Forest, says the company looks favourably on the decision, which he says supports their hoped-for expansion.
"We are pleased that the Simpcw First Nation is to be offered a 25,000m3/year First Nations Woodlands Forest Licence in the Robson Valley," said Pryor in an email response to the Goat. "(The) Simpcw's roots in the Valemount area and our commitment to Valemount's prosperity will hopefully lead to closer social and economic ties for the betterment of both."
Pryor says Hauer Brothers and Stella Jones each lost roughly five per cent of their cut, and Carrier Lumber lost about five per cent of their larger licence, while the smaller one for 75,018 cubic metres remained whole.
Bill Kordyban, president of Carrier Lumber, said that volume-based licences are subject to these fluctuations – they are what they are.
"We accept what was proposed; we don't have an argument with it," said Kordyban.