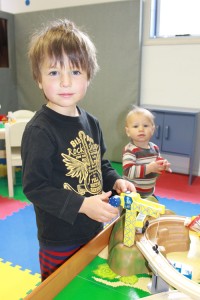 By: Korie Marshall
Valemount Council granted a three-year extension to the current Temporary Use Permit for Kinnickinnickers Family Centre last week. But the Canoe Valley Community Association (CVCA) may need to consider other options if it wants to stay in its current location past 2018.
A temporary use permit to allow "public assembly," granted to the Community Association in 2013 for their rental location on 3rd Avenue (also known as Commercial Drive), was set to expire at the end of May. The permit was required because the building is currently zoned Service Commercial (C3) which does not permit public assembly uses. Until the first permit was approved, Kinnickinnickers could only provide its toy, book and clothing exchange services, and had to postpone other services and meetings, or hold them elsewhere.
The Family Centre started in early 2013 as a partnership between CVCA, Columbia Basin Alliance for Literacy and Success by 6, with enough funding for the first 9-10 months. Later that year, CVCA was approved for almost $60,000 from Columbia Basin Trust's Social Grants program to run the full two year program, and has recently been approved for another $50,000 from the last year of the Social Grants pilot program.
The permit will allow Kinnickinnickers to continue to offer public assembly uses in the side of the building they are renting, so long as parking remains available at the neighbouring vacant lot.
No one submitted or made any comments at the public hearing held on April 28th before the regular Council meeting, but during the regular meeting, Councillor Hollie Blanchette asked the question what will happen at the end of the three years if they are only allowed one renewal.
Andrew Young, Valemount's Corporate Officer and Planner, said the very nature of a temporary use permit is that it is intended to be temporary, but the owner of the property would have some options like applying for a permanent rezoning, or selling the property, potentially to CVCA, who could apply themselves to rezone the property.
"Would they have the option of a text amendment instead of a complete rezoning?" asked Councillor Owen Torgerson, meaning changing the definitions or adding to what is allowed in a given zone. A text amendment would apply to every property within the village under that same zone.
A text amendment could be sought at any time, said Young. He also reminded Council that the Village may embark on a substantial rewrite or replacement of the zoning bylaw within that three year period. Council has approved $50,000 each year for the next three years to be set aside towards that goal, and issues like this could be addressed in that process.
"It's a good organization; I don't want to see it fall through the cracks," said Counc. Blanchette.
During public comment, Diana Smith, village resident as well as administrator for the CVCA, thanked Council for extending the permit and also asked that they consider expanding what is allowed in certain zones, to help make it easier for people and organizations trying to get things going in the community.