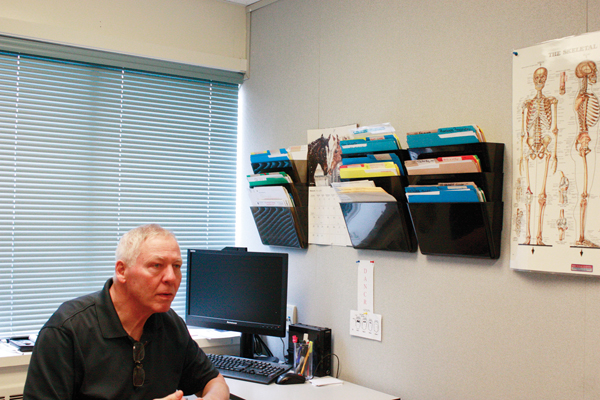 By: Korie Marshall
Due to physician vacancies in McBride, B.C., Northern Health says it will again be working with physicians from Valemount and nurses in the Robson Valley to provide temporary service at the McBride hospital, from April 7th to 17th.
The emergency department in McBride will still operate 24/7, but under the same conditions as it normally does on evenings and weekends. That means residents can still attend the emergency department for an assessment, which will include a consultation with physicians in Valemount to determine the next steps.
Jonathon Dyck, spokesperson for Northern Health, says the consultation with the physicians in Valemount would initially be by telephone conference, but doctors may have to drive to McBride to see the patient in the emergency department. Northern Health uses the telehealth service (video conferencing) for some services within Northern BC like oncology, mental health and addictions, but Dyck says it is critical that a patient presenting in emergency is seen in person, either by a registered nurse or a physician.
Northern Health says physicians from Valemount are providing ongoing support to McBride, meaning they will occasionally hold clinic sessions in McBride, as well as assisting with emergency patients. "There may be times residents of Valemount have longer waits for service, however we're working to minimize that while still helping McBride during this time," says a news release.
Northern Health's emergency rooms tend to patients who have experienced a sudden and/or unusual change in their health. This includes, but isn't limited to, breathing difficulties, severe bleeding or pain, broken bones, chest pain and eye injuries, says the release. Individuals who require emergency attention can call 9-1-1 for transport to the emergency department in McBride, Valemount or Prince George, or can seek private transportation. Once discharged from the emergency department, patients will be required to find their own transport back to their home community.
Patients who aren't sure whether their condition would warrant an emergency room visit, or who need health advice can call HealthLink BC (8-1-1), or visit www.HealthLinkBC.ca for non-emergency health information from nurses, dietitians, and pharmacists 24 hours a day, seven days per week.
Northern Health says it continues to work to secure locum coverage, as well as filling a permanent position and will update the community as coverage is confirmed. The hospital has been short one physician since last summer, and Northern Health has not yet been able to fill that position on a permanent basis, though they have secured some locum coverage. Dr. Michael Jackson retired at the end of March, leaving both positions temporarily vacant, though Northern Health has secured a contract with a part time locum to provide some coverage until September.
Dr. Jackson recently told the Goat that unstable staffing over the past two years meant he was forced to work longer hours than his contract mandated, because his position meant he couldn't just call in sick or take off for a day. Until then, this had been the best job he'd ever had.
Northern Health says it is promoting the physician opportunities, for a full-time physician and locum coverage, by working collaboratively with the community. The positions are also posted on the physician recruitment website physicians.northernhealth.ca, a unique site that helps promote living and working in northern BC, and are being promoted at events attended by the physician recruitment team, says the release. According to the website, both the McBride postings offer an expected salary of $250,000 per year plus various bonuses and benefits.
Northern Health is holding a stakeholder meeting this week in Quesnel to pull together details of a locally driven strategic action plan to attract doctors to that community as well.
"Physicians choose where they want to practice based on a number of factors, with a strong importance placed on the lifestyle they will be offered in the community," said Michael McMillan, Northern Health's chief operating officer for the northern interior in a separate news release. "We have seen with communities such as Fort St. James (which has recently experienced a doctor shortage) that physician recruitment is successful when the community is actively involved in the process."