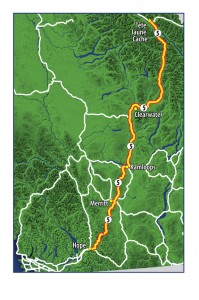 By: Korie Marshall
The province is committing almost $2.5 billion over the next three years as part of its new 10-year transportation plan, BC on the Move. One of the first local benefits of the plan will be a new southbound passing lane on Highway 5 at Camp Creek, about 10 km south of Valemount. Construction is scheduled to start this summer.
"One of the things I have heard regularly from my constituents is the need to improve safety and efficiency on Northern highways," said Prince George-Valemount MLA Shirley Bond in a news release. "If we want to grow the economy and provide safer travel for residents and tourists alike, ongoing investment in Northern transportation infrastructure is essential."
The plan, BC on the Move, sets out a series of 12 key transportation priorities to serve as a roadmap for investments and strategic policy actions over the next decade, says the release.
The 12 priorities listed in the plan are:
1) Rehabilitating highways, bridges and side roads – including investing $60 million over the next three years to upgrade roads in northeastern BC in support of the natural gas industry; and exploreing opportunities to maintain public access to resource and back-country roads. The government recognizes that many back-country roads are built by resource industry companies, and are often maintained only when resource activity is ongoing. Also, companies have an obligation to decommission these roads when their work is done. However, many of these roads provide important access to BC's back-country for other business uses and recreation. The plan says government will work with the resource industry and other stakeholders to identify priority back-country roads and explore opportunities to maintain access for future use and enjoyment.
2) Improving Highway Safety – including introducing new regulations to clarify the definition of winter tires and traction devices; and working with ICBC to explore opportunities to use slow-moving vehicles and other mobility devices in smaller communities. It also includes investing $75 million over next 3 years for road safety improvement including snow avalanche infrastructure, a guardrail program, livestock fencing, variable-speed-limit signs and wildlife detection systems in certain areas.
3) Improving Highway Capacity and reliability – including constructing additional passing lanes between Kamloops and Tete Jaune Cache on Highway 5. The plan says there are more than 1,000 trucks on this corridor every day, and more passing lanes are needed for safety and to reduce driver frustration. Construction will begin this summer on a new southbound passing lane at Camp Creek, and Clearwater has the first ever roundabout on a major numbered route in BC, which also serves as the gateway entrance to Wells Gray Provincial Park. Passing lanes are also planned for Highways 16 and 37 around Prince George and to the northwest, but no other details are yet available on further improvements through the Robson Valley area.
4) Deliver a provincial trucking strategy – including accommodating heavy and large loads, streamlining permitting, and reviewing pilot-car requirements to maintain safety, while making them more efficient and consistent with other jurisdictions.
5) Investing in Transit – including investing $312 million in operating contributions for BC Transit and replacing half BC Transit's fleet (about 500 buses). The plan says access to public transit is a key priority of government "which is why we partner with communities to ensure that 90% of British Columbians have access to this important service." There are currently no BC Transit services within or through the Robson Valley
6) Investing in Cycling – including investing $18 million over next three years to build new bike lanes and trails throughout BC.
7) Investing in airports – including investing $24 million over next three years in the new BC Air Access Program. The program will provide community airports with access to $24 million in new funding over the next three years to invest in infrastructure improvements, such as runway extensions, terminal-building expansions, lighting and navigational system upgrades, through partnerships with federal, local and regional governments and agencies, and the private sector. The plan says these improvements will allow airports to accommodate larger aircraft and more frequent flights, supporting the continued growth of local and provincial economies.
8) Enabling efficient ports and rail – including determining potential infrastructure upgrades needed to support the LNG industry and facilitating development at the Port of Kitimat.
9) Sustaining and renewing ferries – including continuing to pursue strategies to maintain affordable, sustainable and efficient costal ferry service.
10) Building partnerships with First Nations – including partnering on projects that support economic development on their lands, facilitating more employment and training opportunities for First Nations, and reconciling outstanding highway tenure issues.
11) Improving accessibility – including upgrading rest areas.
12) Protecting the environment – including continuing to invest n transit and cycling programs, investing $6 million over next 3 years for habitat conservation and protection and $3.9 million for invasive plant management programs.
The plan was developed by the government with input gathered during consultations in fall 2014. The province says the engagement included a public survey which drew over 12,500 responses from throughout BC, and over 100 meetings throughout the province with First Nations, local governments, transportation authorities and other interested stakeholders.
The province says transportation is one of eight key sectors that are a focus of Premier Christy Clark's BC Jobs Plan, introduced in 2011. The 10-year transportation plan is intended to help improve the transportation network, grow the economy, meet the needs of our growing population, and support an expanding resource sector.