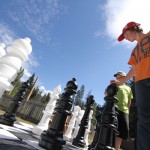 Submitted by
Columbia Basin Alliance for Literacy
In Valemount, Family Literacy Week is being extended to three weeks, from January 27 to February 14, because Columbia Basin Alliance for Literacy (CBAL) and Valemount Public Library love literacy.
Plans to celebrate include three challenges: "Family literacy is . . .", "My Favourite Book" and "Look Who's Reading!" Enter any or all of the categories, for a chance to win a Samsung Galaxy Tablet. The challenge is open to everyone and all ages, whether you currently are a child or youth, have children in your home or once did, or have memories from your childhood you would like to share. Entries for the first two categories are available at the Library. "Look who's reading!" is a photo challenge, with entries accepted at [email protected] A random draw for one prize will be made from all entries received by 2:00 p.m., February 14, 2015.
On January 31, CBAL and the Library will also be celebrating family literacy at the Library. From 11:00 a.m. – 2:30 p.m., a Chess Tournament will be held downstairs with regular sets and the new giant chess set. Upstairs, from 1:00 – 3:00 p.m., children will enjoy a marathon of Robert Munsch stories with special readers. Join us for some fun, snacks and lots of free draws for more great prizes!