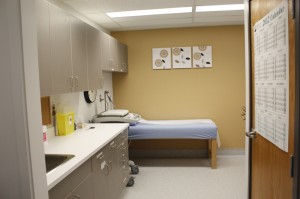 By: Korie Marshall
Northern Health is notifying patients who have had certain procedures over the past two years about a risk of transmitting viruses because of an error.
An error was discovered in the pre-cleaning process for flexible endoscopes at the University Hospital of Northern BC (formerly Prince George Regional Hospital) between 2012 and last month (December 2014). Endoscopes used for colonoscopies, upper gastric scopes, and endoscopic retrograde cholangiopancreatogram (ERCP) exams at UHNBC were not being cleaned according to the manufacturer's instructions.
In a news release, Northern Health says it has identified that a pre-cleaning step may not have been fully completed in all cases. Other cleaning steps were completed properly, but there is a small risk that not all viruses were removed during the cleaning process.
An endoscope is a long flexible tube, equipped with lighting and a camera, used to help diagnose and treat diseases of the gastrointestinal tract. It can either be passed through the patient's esophagus or colon. The devices are normally reused after pre-cleaning, manual cleaning and then disinfection, according to guidelines. Northern Health says a staff member discovered an error in the process in December, and a review of the process was started immediately. It says when the risk was identified as being extremely low, Northern Health sought advice about notifying patients, as disclosure could lead to increased patient anxiety.
Northern Health says the error has been corrected, and the BC Centre for Disease Control has advised that the risk of transmitting a virus is extremely low, but it will be contacting patients who have had one of these procedures during that period to provide them with additional information. Northern Health says the Centre for Disease Control is not recommending any follow up treatment or actions for patients.
Northern Health says the error did not impact the diagnostic outcome of the tests and other endoscope procedures at UHNBC were not affected.It apologizes to the patients for any anxiety resulting from this incident.
People with immediate concerns can contact 1-844-565-5516 or [email protected].