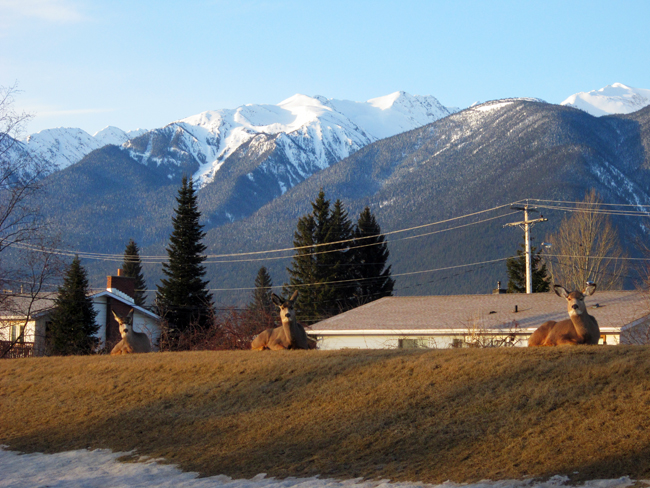 By: Korie Marshall
A community member brought a concern about urban deer to McBride Council in 2012, and the concern was again brought up at the elections forum this year in McBride.
Nancy Taylor, coordinator for the Open Gate Garden, says there are often signs that deer have been circling the garden, but so far the high fence, built to keep them out, has kept them at bay.
Former mayor Mike Frazier said during the election forum that Council is just as frustrated about the deer as the rest of the public.
"They are running all over hell's half acre, they are eating your plants, they may be attacking your dogs, they are scaring your kids," said Frazier. "Something bad might happen. Someone may get attacked and hurt."
Frazier says they've been in contact with the BC Conservation Office, and asked them to do seminars or come to the schools, but they haven't responded yet. He says by provincial legislation, the village is "pretty much powerless" to do anything about the deer within the boundaries.
Former councillor Irene Rejman says the problem is minimal in McBride but she did attend an urban deer management workshop at the Union of BC Municipalities conference in September, as concerns have been raised by the community.
"Part of the discussion was around educating the public about wildlife, and getting the message out," says Rejman. One of the things suggested at the workshop was to put up "Do not feed the deer" signs around the community, because it helps educate the public and is not as costly as some of the other potential solutions. Council agreed to install some signs at a meeting earlier this fall. Rejman says it is hard to pick one certain spot where the deer problem is worst, as they are spread out all over the community.
Eliana Clements, the village's Chief Administrative Officer, says a survey was distributed to residents in the past to gather information, and Council determined to develop an information brochure for the public on "Living with Urban Deer," and to continue providing information to the community.
In May 2012, the Village sent out 520 surveys on deer in McBride. Of the 102 respondents, 62 per cent were very concerned about the deer population, with damage to vegetables, flowers, trees and shrubs being the highest concern, followed closely by deer aggression towards humans and pets, and overpopulation of the herd. All respondents said they do not feed the deer, but 45 respondents said they know personally of someone outside their family who feeds deer. A brochure entitled "Living With Urban Deer" available on the Village website, and warns that feeding deer cause them to return, creating more chance for interactions with humans and pets. "Leaving out apples, compost scraps, hay etc. will cause problems as this is not their natural food source, but an easy one. The Village of McBride recognizes that deer are a natural part of our environment and despite the fact that numbers are low relative to other urban areas, anecdotal information from the public suggests that human and deer interactions are increasing in McBride."
In early September, the province issues a factsheet on managing urban deer in BC, saying they are committed to helping local communities manage deer and other wildlife in urban environments. They acknowledge that deer have become a safety concern in some areas, not only because of automobile collisions and conflicts with people and pets, but also because deer tend to attract predators such as cougars. But solutions vary, depending on specific local conditions and local attitudes.
The factsheet says staff from the Ministry of Forest, Lands and Natural Resource Operations can help communities manage conflicts by taking part in planning committees, providing technical advise, developing hunting regulations, and issuing permits to manage urban deer populations, as well as loaning equipment when available and as required. It encourages local governments to develop detailed community management plans that include resident opinion surveys, deer population estimates, "no-feeding" bylaws and educational initiatives outlining conflict reduction strategies.
The ministry says some communities have opted for limited culls to reduce populations to levels where other non-lethal management tools can be more effective. In these cases, communities must make full use of healthy deer carcasses, for example by donating the meat to First Nations, local food banks or other charitable groups. Organizations accepting wild game meat may distribute it to the public, but may not sell it.
Culls must be conducted by trained contractors and the meat must be processed by a qualified butcher. Wildlife experts advise that capturing deer in modified collapsible clover traps and euthanizing them with a bolt gun is the safest, most efficient and most humane method of culling deer in urban areas. Modified clover traps, which resemble oversized hockey nets, are placed in secluded locations, and deer are not trapped during daylight, to reduce stress on the deer.