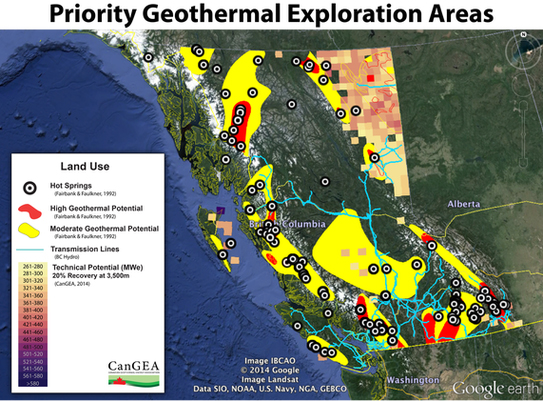 By: Korie Marshall
Over this coming winter, Geoscience BC will be gathering existing geothermal data on Valemount and other areas of the province. The aim is to help identify sites with economically feasible potential for geothermal direct-use applications, and potentially start a consortium to drill test holes to verify that potential.
Carlos Salas, professional geoscientist and Vice President of Oil and Gas for Geoscience BC, says the non-profit organization has been around for about 10 years. Its goal is to providing science to British Columbians so they can make informed decisions about resource development in the province. About three years ago, the board of directors thought they should start looking at geothermal energy.
"Of course, geothermal energy is a resource – which hasn't been developed in BC yet," says Salas. "We thought we'd start a project to look at the economic viability of geothermal energy throughout the province, not just for electrical generation, but for direct-use."
Salas says there has been a lot of good work done in the past, but it has mainly been academic, and mainly with an eye to electrical generation. He says they are seeing that British Columbians really want to understand where you are most likely to make money from geothermal, and that if you look at geothermal more broadly, there are lots of applications for direct-use.
"That is really important, especially to small communities and First Nations," says Salas. They've heard a lot of feedback from communities that are looking for the economic spin-offs, the industrial applications that can help small communities entice economic development. "Listening to them got us interested in how can we do something that has bigger application for BC in general."
He says drilling for geothermal is riskier than people think, but looking for enough heat for direct-use is less risky, because you don't have to go as deep, or need as high temperatures. But the risks and costs can still be high for small communities especially. The project aims to lower the exploration risks by analyzing existing and new geothermal data with an emphasis on direct-use applications. That could create economic development and job creation opportunities that can be pursued by local governments and First Nations.
"We want to make sort of a 'cookbook' or a Gantt chart, so communities like Valemount can look at what steps need to be done to come up with an answer that makes economic sense," says Salas. "We want to give geothermal energy that economic context."
A report to Valemount Council on the Oct 28th agenda says a teleconference was held on Oct. 16th. Staff from the Village and outgoing Mayor Andru McCracken met with Warren Walsh of the Ministry of Energy and Mines, Myles Bruns of the Ministry of Jobs, Tourism and Skills Training, Ted Sheldon of the Ministry of Environment, Kindy Gosal, Director of Special Initiatives and Rick Allen, Environment Program Manager for Columbia Basin Trust to discuss Geoscience BC's project. Valemount was identified as an ideal location for the program because the Village and community have expressed interest in exploring direct-use geothermal.
Salas says the first part of the program will be data compilations, to ensure all the data available is compiled. He says Valemount is one of 17 sites throughout BC that are already rated as high potential. In late November, Geoscience BC issued a request for proposals to determine the economic viability of geothermal resources in BC specific to electrical generation (http://www.geosciencebc.com/s/RequestsforProposals_Current.asp ). Salas says another RFP specific to the economic viability of direct-use will be issued shortly.
"We don't usually get involved in the drilling per se, but we have talked to some partners and there are some funds out there that might be applicable to test bore holes," says Salas. "Any data we collect goes out freely to the public, so anyone will be able to use this data.
After that data is collected, Salas says a consortium could be put together to drill some test wells. They wouldn't have to be deep, just enough to give a better idea of the geothermal gradient in the area.
In September at the annual Union of BC Municipalities conference, a resolution was passed unanimously, asking the provincial government to support development of geothermal power in BC and to encourage Geoscience BC to survey potential heat resources. Salas says Geoscience BC had already been looking at it, but the resolution, especially that it was passed unanimously, gave them the extra "shot in the arm" that municipalities are interested.
The report to Council from Silvio Gislimberti, Valemount's Economic Development Officer, says Geoscience BC is asking for the Village's support for this program, and for assistance in identifying potential funding partners for the project. It aligns with the Village's strategic priority to explore options for geothermal opportunities.
Village EDO sees first hand direct-use applications
Gislimberti himself was in Klamath Falls, Oregon in early October, on a trade mission to see first hand some of the applications for direct-use. The trade mission was organized by the Canadian Geothermal Energy Association, as a way to show Canadians some of the potential for geothermal direct –use, even in small operations. Gislimberti's attendance was funded by a federal grant. He says the situation in Klamath Falls is different from Valmount, because the almost 50 square kilometre city is sitting on an ancient volcanic caldera, so there are many places that hot water can be found at less than 100 meters. Valemount is less than five square kilometres, and it seems likely that we'd have to dig deeper than 100 meters to find the heat. Gislimberti says farmers around Klamath Falls used to complain about the heat because they had to cool the water from their wells in order to water their cattle. But since the 1970's, the city has been using geothermal heat for a number of uses, including a fish farm, a brewery, a tree nursery, and melting snow and ice from sidewalks.
Though close to the southern border of Oregon, Klamath Falls gets cold winters like Valemount does, often in the minus 30's. Gislimberti told Council on Nov. 25th that the fish farm moved from growing tropical fish for aquariums to growing tilapia, a white edible fish – and there is unmet demand for it both in Vancouver and across the US border. And it can be done very economically, even with lower temperature geothermal sources.
Gislimberti also saw an example of a custom power house. He says a building of about 2,400 square feet is producing two megawatts of power – enough heat and electricity for the entire Oregon Institute of Technology Campus and the Sky Lakes Medical Centre. The project cost $14 million to build, but saves $1.5 million a year in heating and electricity costs. He says this is one example of the high initial cost of a geothermal power plant, with big long term benefits, and a relatively short pay-back period.
Liskey Farms is another example of something that can be done here, says Gislimberti. They have a very simple greenhouse set up but follow California's very strict food rules, and harvest twice a week with a 90 day production cycle. He says the greenhouses often combine geothermal heat with a biodiesel or solar power system, and their biggest problem is finding young farmers who want to take over the businesses.
"Valemount Geothermal Industrial Park"?
During his presentation to Council at it's last meeting before Mayor Elect Jeannette Townsend and the new councillors are sworn it, Gislimberti admitted he isn't an engineer, and some of the technical details may have escaped him. But he recognizes the potential to attract businesses and to create jobs, if we can identify where the heat is. And that is something that Geoscience BC is hoping to be able to help with.
Gislimberti suggested that an industrial park in Valemount could be laid out so that projects needing various levels of heat are arranged along a circuit, all connected to one district heating system.
"Could this work at the old mill site? Maybe," said Gislimberti in his presentation to Council. "But we need to know if we can access the heat source, then build around it."
The Valemount Community Forest (wholly owned by the Village) recently purchased the old mill site south of town in order to help spur industry.