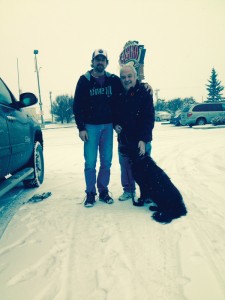 By: Korie Marshall
Kenn Overacker is thanking many Valemount residents and businesses for their care after an accident on the highway, and for helping him get his new dog, Guinness, back.
Overacker was on his way home to Edmonton after picking up Guinness, a black lab, from his granddaughter in 100 Mile House on Oct. 26th. He and his son Ryan rolled over after hitting ice on the overpass just south of Valemount. Overacker says the vehicle was totaled, and luckily he and his son weren't badly injured, though they had to get to the McBride hospital for x-rays. Guinness was seen in the trees after the accident, but disappeared, and wasn't seen for over a week – until he showed up on Giovanna Gislimberti's deck.
Police reports and posts on Facebook had let the public know about the missing dog. Chris Dolbec from the Robson Valley Spay and Neuter Society put out a live trap to try to catch him, but hadn't had any luck in the first few days, so she started showing residents a photo of Guinness.
"Chris showed me the picture two days before, otherwise I would have let him go, thinking he was from around here and would go home," says Gislimberti. "He was just outside my door, so it wasn't a big 'finding'," she laughs. She saw something black on her deck and thought it was a bear at first, but then she put on her glasses and realized it was another dog, playing with her dog. She realized it must be Guinness, so she called him inside, fed him, and called Dolbec.
Shari Mante, Overacker's granddaughter, says she and her husband Russell got Guinness as a wedding present from a friend of hers, but he was always stuck in the back yard.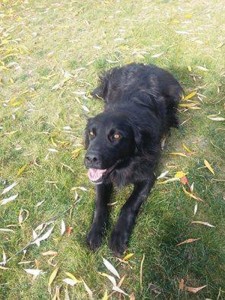 "I have three kids under three, and he's a small dog in a big dog's body, so he just tramples my kids," said Mante. "He's very loving but a bit too much for the kids right now, and he wasn't getting the attention he needed." Also, her husband had also been transferred to the island, and they are selling their house. They weren't sure the new yard would be very good for Guinness either.
Mante says her grandfather's dog had recently passed away, and he'd been looking for another dog that suited him. He came all the way to 100 Mile House to get Guinness, and she knew he'd be spoiled just like a kid with her grandpa.
They thought they were doing what was best for him, but when Guinness went missing, Mante and her husband felt like they were being punished for giving him away.
"We are so glad he's found, and we can still see him every once in a while," says Shari. "I am so glad it is all working out, the people of Valemount are just amazing! The nicest community I've ever met. I'd like to move there if we ever have the chance."
Greg McNee who originally posted on local Facebook pages about the missing dog and his wife Lori delivered Guinness back to Overacker in Edmonton on Saturday Nov. 8th. On Sunday Overacker said Guinness was settling nicely into his new home, and was comfortably curled up for a nap after going for a long walk.