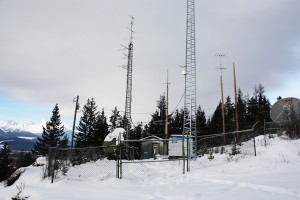 By: Korie Marshall
Recent repairs to VCTV's equipment mean better reception for a number of channels, including Valemount's own local Channel 7.
Station manager Gord Peters says it has been frustrating to see Channel 7 in black and white most of the time, when he was broadcasting it to the tower in beautiful full colour. With a bit of money left in the budget this year, he was glad to be able to get up to finish some repairs before winter.
"I can get to the tower on snow shoes, but it's a little hard carrying gear," said Peters. Most of the transmitting equipment is at the tower itself, up the beginning of Five Mile road.
Peters says Channel 7 is now broadcasting in color again, and Channel 8, YTV, has sound again. A replacement had been found for a problematic modulator for Channel 8 earlier this year, but the audio connector was of an old type that has been difficult to find, so there was still no sound. Peters was finally able to locate one that wasn't exorbitantly expensive, and a number of other repairs were done at the tower over the first weekend in November.
Ch 4, the Knowledge channel, was the weakest channel, but both picture and sound quality are now greatly improved, says Peters. Channel 7 and 8 are both fixed, and the quality of Ch 6 (CBC) was upgraded, but it still suffering from an amplifier that needs to be replaced.
When asked if VCTV could be extended to provide service to more of the Robson Valley, Peters said a few things would be required: CRTC and Industry Canada approval to expand the broadcast area; a repeater, which would need to be installed in a strategic area and could be quite costly; and a change in the mandate of the Valemount Entertainment Society, the non-profit organization that runs VCTV, which would have to go out to the membership. Also, the service is paid for through taxes for a regional service area so that would also need adjusting if the service area was to be expanded.
Many Valemount residents enjoy watching Council meeting on TV or online, especially those with
mobility challenges. Peters also noted that if people were interested in specific things, like for example seeing McBride Council or Dunster Community Association meetings online, it could be quite simple technically to set up something like a YouTube channel. All it would take is a camera, an internet connection, and someone to man the camera. McBride currently has its own association that has rights to rebroadcast television in the McBride area as well, though there are some areas in the Robson Valley that aren't reached by either service.