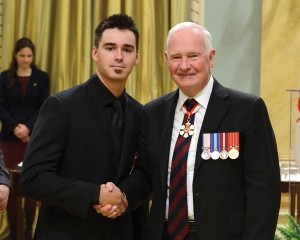 By: Laura Keil
Tyler Fowler has received a Bronze Medal of Bravery for his help in a tragic car accident two years ago.
Fowler received the medal at a ceremony at Rideau Hall in Ottawa from Canada's Governor General His Excellency the Right Honourable David Johnston.
Fowler was driving on the Hwy 63 between Edmonton and Fort McMurray when he came on the scene of a head-on collision that had been caused by poor visibility and an attempt to pass. Fowler helped pull people from the vehicles. Fowler's hands were burned in his effort to rescue a man trapped inside a vehicle that was ablaze.
Seven people died in the crash and two others were badly injured.