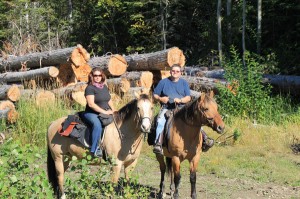 Submitted by Rose Schroeder
We shouldn't have been surprised! When you ride the backcountry trails with any of the 800 members of the Back Country Horsemen of BC you're bound to run into a work bee situation.
One of the benefits of belonging to a group like BCHBC is you get to know people of like interest all over the province. Once a year my friends and I like to travel somewhere to ride new trails. By connecting with other members we have built in trail guides that show us their best routes.
Our journey this year, starting Aug. 18th, took us on the long road from the Fraser Valley to McBride to ride with members of the Robson Valley Chapter. We broke the drive up by staying over the first night in Kamloops at the old race track and rodeo grounds, then three nights at the Canoe River Campground and Canoe Mountain Rodeo Grounds in Valemount. The hosts here were fantastic and even drove us around to get a feel for the layout of the land, and we rode old logging roads and snowmobile and off-road-vehicle trails.
The real adventure escalated on Aug. 22nd at the Swift Current Creek trailhead. We had pre-arranged to meet some Robson Valley members here, who are just re-opening this trail. From the parking area there is a short, steep climb up, then over the toe of the mountain through rocks, roots, brush, up, down, around and over stuff. Suddenly Brian Wallace (our fearless leader and current President of BCBHC) pulls his horse up and announces "We might as well do a quick fix on the boardwalk – if you don't mind!" I wondered why he was packing a chainsaw! Would we each please carry a board a short distance to the work site? So as we rode by, he hefted up a 20lb, 5ft-long plank that had been soaking up the rain for a year to each of us. Thankfully we only had to go a short distance. My right arm is now 2 inches longer than my left.
We did the chain-gang thing so it was quick work to install the planks, some rocks, and cut the brush along the boardwalk. The horses had good footing. Another 20 feet and they literally stepped into the valley of Swift Current Creek.
Mt. Robson is on your right, Whitehorn Mountain and the Swift Current Glacier straight ahead. This is a tricky trail because there is no trail! You are following the creek (a river really) by crossing from bank to gravel bar to bank to gravel bar repeatedly. Fourteen times to be exact! Water crossing skills are necessary for both horse and rider – and dogs if you brought them. Knowing how to read the water to avoid deep places, not looking down to avoid vertigo, and keeping your horse from drifting with the current are important. The current was fast and we had to avoid log jams where the water is usually deep. Some crossings were chest deep on the horses anyways. But the footing was solid, so there were no problems if you followed in the guide's tracks. I think one of the reasons this way of travelling in the backcountry appeals to me is this is the way our ancestors had to get around and try to make a living as well.
Our second work bee adventure was on the Teare Mountain trail. My motto, "I like to get high on my horse," must have preceded me. Brian took me literally and we climbed 4000 feet in 4 miles – horses are amazing, hey? Once again, we should have figured – Brian was packing a chainsaw on his hip. There was windfall after windfall, but then also a beautiful waterfall, views, fungi, trees, laughter, sweat and camaraderie – friends helping friends! Both horses and riders enjoyed a relaxing lunch and rest in a high alpine meadow. Each evening we returned to our campsite in a large hayfield in the valley owned by one of the members and rehashed the day.
Over the next two days we headed out on two more rides – one along the Fraser River and another on the Dore River trails. The hospitality of the Robson Valley Chapter knew no bounds and was heartwarming. I encourage anyone reading this article to do as I did: contact other members and learn their trails. And remember "If you do not step forward you will always be in the same place!"