By: Laura Keil
The Trading Post is changing hands Sept 16th. Rob Van Haaften, who runs the Valemount Car Wash and Mini Storage, bought the building from Henry Unger.
Unger had been running a hardware store in the building. He also provided a space for the Crafter's Guild, which was formed when Unger built the Trading Post in 2010. The Crafter's Guild will be moving out with the building sale and is closing indefinitely; the volunteer-run crafters guild, which operates similarly to a co-op, is seeking a new space with minimal rent.
Van Haaften says he will be expanding his storage business at the new location to offer RV storage, boat storage as well as smaller storage units like 8×8 foot containers. He currently rents out only 8×20 storage units.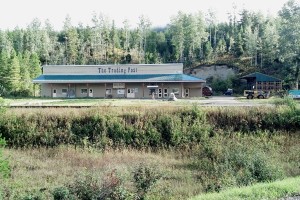 He says he will also be partitioning the inside into smaller spaces for rent and hopes to attract a number of businesses and organizations looking for a home.
Van Haaften says buying the Trading Post (he plans to keep the name), was a big opportunity.
"That building is a prominent building in this town; as soon as you come over the tracks, it catches your eye."
He says Valemount seems to be bustling this year with several new businesses and existing ones also doing well.
"When you look at the little businesses in town, they seem to be making it."