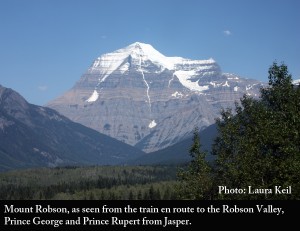 By: Korie Marshall
The Regional District has approved one house near Mount Robson to be used as a vacation home rental, but a decision on the other residence on the same property has again been postponed.
An application was filed with the Regional District of Fraser-Fort George to allow the use of two residences near Swift Current Creek as vacation home rentals. The property is currently zoned RR1 (Rural Residential) which allows a bed and breakfast, but does not allow tourist accommodation, which is how the Regional District currently classifies vacation home rentals. Co-owner of the property Carmen Ottaway says a vacation home rental is more like a bed and breakfast, and should be allowed without the owner having to pay commercial taxes on the property.
At the public hearing on the temporary use permits in June, Area H Director Ken Starchuck said someone would have to bring the issue to the Regional District to initiate changes to the regulations for vacation homes. He said there are approximately 13 vacation homes in the Robson Valley.
At the July meeting the Board of Directors delayed a final decision on the temporary use permit for both residences because of some outstanding paperwork.
Terry McEachen, General Manager of Development Services for the district, said the temporary use permit for the dwelling closest to Swift Current Creek Road was approved at the Board's August meeting. Also on the agenda was a development variance permit for the other dwelling, closest to the creek. The permit is to decrease the minimum vertical setback of the building from the natural boundary of Swift Current Creek from three meters to 1.2. McEachen says a decision on the development variance was postponed pending clarification of geotechnical issues. The decision on the temporary use permit for that dwelling was also postponed, pending the board's decision on the development variance permit.