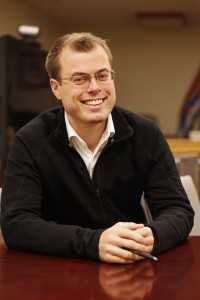 By: Korie Marshall
Finishing up at the Village office and signing last minute paperwork for some of the non-profit boards he was involved with, Braden Hutchins' car was packed full as he drove around Valemount on Friday, Sept. 12th. Actually, packed a little too full – he had to leave his guitar at a friend's place, at least until he comes back to visit with his new wife Heather.
On Saturday, he was heading to Port Coquitlam to a small condo he's managed to rent, and will start his new job with the city as Corporate Officer and Manager of Lands on Monday. It's been a whirlwind of a month for Hutchins, who served as Deputy CO and then Corporate Officer for Valemount for the last two years.
Hutchins had been planning a month off to visit his fiancé and help pack up her residence in England, where she was working on her PhD. Just before heading out on vacation, he found out he'd been offered the job in Port Coquitlam. He'd been keeping an eye out for something suitable, in a place where she'd also be able to find work in her profession, and he says he was surprised to get this offer to the first job he'd applied for.
Hutchins spent much of the rest of his vacation in Ontario, where his wife is from – they got married in Parry Sound near the end of their vacation, with both of their fathers officiating. He says they plan to have a big reception next summer on Vancouver Island, where he is from. Hutchins says his wife has another six months to finish writing and defending her PhD.
When asked what he will miss most about Valemount, Hutchins says everything, in its own way.
"I'll miss work, certainly. It was wonderful working for the Village; really great management, Anne is awesome; really progressive and great council to work with. Going to work was always a pleasure."
"I will certainly miss the board work," Hutchins said. "It is fun and challenging at the same time, but it is extremely rewarding." He has been heavily involved in the community, sitting on boards such as the Valemount Area Recreation Development Association, the Yellowhead Outdoor Recreation Association, the Valemount Entertainment Society, the Robson Valley Support Society and the Valemount Children's Activity Society.
He'll miss the many good friends he's made in Valemount, and the opportunities here like the meeting places the community builds, the trails you can access after work and the longer, more dedicated adventures – he says there is something for everyone.
"Before I moved to Valemount it had been too many years since I was comfortable exploring the outdoors," Hutchins says, and he thanks the myriad people who have helped him get comfortable in the outback, from hiking to skiing and snowmobiling, and even the skating rink. He learned how to play hockey again, which he hadn't done since he was a kid.
"I don't live with regrets, but there are activities here I haven't had time to experience yet," says Hutchins, like curling and horseback riding. He says there are more opportunities to learn from people here and their varied skilled sets.
After working in England for an environmental agency, Hutchins had a goal to come back to BC and work in local government in a small community, because he knew he'd see a variety of opportunities. He started with the Village of Valemount in 2012 as Deputy Corporate Officer, and was promoted to Corporate Officer in 2013. The Village has posted a job description for a new corporate officer or deputy corporate officer. The posting closed on Aug. 29th.