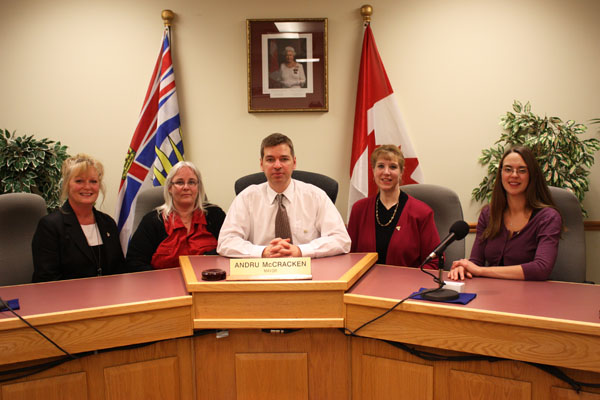 Counc. Dallas Bullock shown at far right in this 2011 photo.
By: Korie Marshall
Councillor Dallas Bullock has resigned from Valemount Council, just three months shy of the end of her term.
In a simple letter to Mayor and Council, Bullock says it was a difficult decision. "My reasons for leaving are personal and I ask for your understanding."
Since the resignation comes after July 1 of an election year, the Community Charter allows the Village to continue with the remaining Council membership, says a report to Council on the Tuesday, August 12th agenda. Otherwise Council would have had to resolve to have a referendum or continue with only four Council members.
The report from Chief Administrative Officer Anne Yanciw says Bullock was appointed to a number of committees as a representative of Council, but only a few require consideration on appointing an alternative. Council was scheduled to consider new primary appointments to the Valemount Community Forest and Tourism Valemount committees, and alternate appointments to the Regional District of Fraser-Fort George, Northern Development Initiative Trust, and the Omineca Beetle Action Coalition.
November 15, 2014 is general voting day for municipal elections in BC. The term for this election will be four years, rather than the previous three-year terms. According to the Ministry of Community, Sport and Cultural Development's website on the 2014 elections (www.cscd.gov.bc.ca/lgd/2014elections), the nomination period for candidates starts in late September.