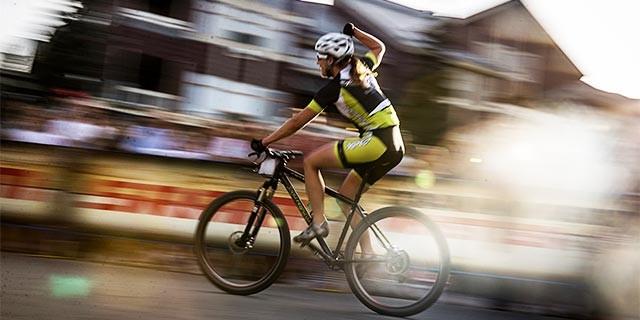 By: Korie Marshall
A local mountain bike racer took the win in the opening event of the Crankworx Mountain Bike Festival in Whistler this weekend. Jean Ann Berkenpas won the ladies Fat Tire Crit.
Berkenpas, who has been teaching at Valemount Secondary School and coordinating the Mount Robson Marathon, explains that a "fat tire crit" is an adaptation of a road race into a mountain bike event.
"Typically a crit is a city block or two that road cyclists race around for a set amount of time, and compete for sprints throughout as well as for the win at the end," she tells the Goat. For this festival, the course followed winding cobbles, paved walking paths and gravel paths in Whistler's downtown. Berkenpas says they also threw in a wooden jump right before the finish line, and to make it a little more interesting, riders were pulled from the back of the race every few laps, until there were only five left. They raced for 20 minutes plus two laps, and there's a video replay of the race at www.crankworx.com/whistler/videos/169.
Berkenpas has also been to Ontario for the Canada Cup and the National XC Championships a couple weeks ago, but she says she was disappointed with her ninth place finish in both races. She was looking for a top-5 finish. She will be competing in more events this week at the Crankworx festival, including the Enduro on Sunday, which she calls "an incredibly epic day on some very challenging technical trails." She'll also do the Canadian Open XC on Friday, more of the racing she is used to, and she also plans to attend another Canada Cup and the Canadian Championships in the marathon discipline. You can follow some of her racing experiences on her blog at jaberkenpas.blogspot.ca.