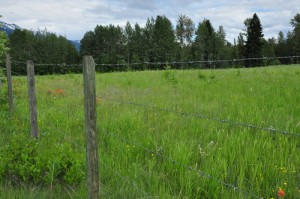 By Thomas Rohner, Investigative Contributor
Beyond an iron gate, with warning signs of "No Trespassing" and of hidden security cameras, an overgrown driveway stretches past young pines. It ends in a clearing dotted with sand pits where the Lee Road school house used to stand. The fruit trees that stood beside the school house are gone too. Three deer, ears twitching, skittish, keep a watchful guard from across an adjacent field of weeds.
"Dunster's always been this open community, everybody knows their neighbours," Chuck McNaughton, a short burly lifetime resident of the area said. "Now there's locks and gates and security cameras everywhere."
A community meeting held June 4 in Dunster was organized to discuss what many in the valley have observed over the past decade or so: large parcels of land bought up and then, to varying degrees, abandoned; property prices as steep and harsh as the mountainsides that flank the valley floor; and how difficult it is for people of ordinary means—often young families—to move into the valley.
"Quite often when the face of a community starts changing, you don't notice it at first, it has to reach a critical mass," Linda Fry, who attended a community meeting, said. "I think we do have to realize that change is the face of our communities."
But change from and to what?
"The ultimate result of abandoned properties is the death of the community," Lelani Arris, president of the Dunster Community Association said. It's not change people in the Dunster area fear; it's the slow strangulation of their farming community as it becomes nearly impossible for new people to move in and find affordable land, while fertile land is left fallow or mostly unused.
"A lot of us are getting older," Chuck said. "It's the volunteer labour we're running short on, and that's what keeps this community going."
Mad Land Grab
All over the world, large groups of people and organizations are buying up farmland, says Dr. Lenore Newman, the Canada Research Chair of Food Security and Environment at the University of the Fraser Valley. Dr. Newman is tasked with studying the Canadian agriculture industry in the context of global trends.
"We're in the middle of a global land rush. It's not just your valley, it's not just the province—it's the whole world."
In BC, foreign landowners don't face any more restrictions than Canadians do.
"There's a lot of big money sluicing around the world and land is one of the best investments going," Dr. Newman said. "This incredible pressure on land in BC is pricing it out of the range of everyone who was born and raised here and who makes an average Canadian salary."
Fraser River Landholdings Ltd is one company with extensive landholdings in the valley. A co-director of the company, Mark Walter, confirmed through a media representative that the company owns at least six properties, totaling about 1,000 acres, between Dome Creek and Valemount.
"The property is planned to be left as is, agricultural and recreational," the email read.
Walter and Fraser River Landholdings co-director Robert Patton Jr. are wealthy American businessmen who, in 2012, bought the LA Dodgers for a record $2.15 billion as part of Guggenheim Baseball Management. Walter is also a founding partner, and current CEO, of financial assets management firm Guggenheim Partners LLC, with over $200 billion in managed assets, according to their website. Walter is also a trustee of the storied and powerful Guggenheim Foundation.
Newman notes, though, that many Canadians are in the same position, able to buy up land and sit on it. Only about 15 per cent of BC land is owned privately and with global capital hungry for investments, Dr. Newman fears the land rush will continue.
In the global village, where global capital permeates the local economy, national boundaries become almost irrelevant. Local community members can invest their time, labour and dreams, and can sow seeds for the future, for their children and the land they become a part of; but how does that stack up against pools of global capital, mostly impervious and ignorant to local community concerns?
"The problem," says Dr. Newman, "is this idea of parking on the land; using land as a GIC or a safety deposit box."
Old Blood
"If I were king," Pete Amyoony says, chuckling, in the kitchen of his small cabin in Dunster, "I would make a law that says, if you buy a piece of land and don't put it to good use, don't improve it, that you're not allowed to sell it for more than you bought it."
A fantastical notion, but one that belies a certain wisdom. Amyoony has called Dunster home for some 20 years, has worked hard to pay off his 10-acre farm and is very active in the community. But circumstances have changed since he first moved into the valley.
"Land has become a commodity: to be bought, sat on, sold for more."
Arris knows this all too well. She sold the piece of land on Lee Road where the school house sat to Fraser River Landholdings. She still feels intimately attached to the property: her ex-husband perished in a tragic fire in one of the buildings, and she's visibly devastated by the absence of the school house.
"I just don't understand, why did they have to tear down the Lee Road school house?"
Just after selling the lot, Arris wanted to move a shed from the Lee Road property to her home, just up the street. She was pulling the shed up Lee Road with a tractor when her realtor called; somebody had seen her, called the realtor, who told Arris that she wasn't allowed to remove the shed since the sale was already finalized. The shed was sold with the lot, its fate up to the new owners, who evidently tore it down.
Property ownership is absolute: once the transaction is complete, any emotional or psychological value it holds for the former owner is translated into memories and dollars and cents.
"People have a right to sell for whatever reason they have decided to sell, and people have a right to buy, for whatever reasons they decide to buy," Linda Fry, who works as a notary public, said. "These are individual decisions."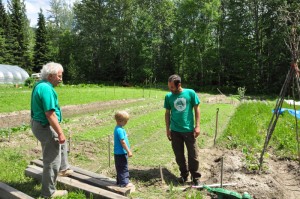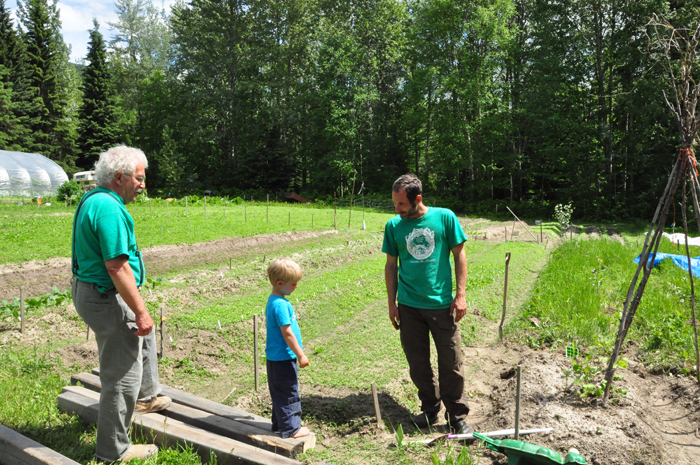 New Blood
A warm burst of fish odour greets you at the door of Pete's greenhouse this time of year.
"I farm organically, with fish fertilizer," he explains.
Despite scaling back on farming as he nears retirement, Amyoony has an exuberance and tireless energy. He hops off his riding lawnmower—"Those clippings will go in my compost"—and points across a rectangular plot, tilled and planted, which stretches about 100 meters away from the greenhouse and ends just before a derelict school bus and the forest in behind.
"That's the magic school bus," he smiles. The soft sound of clattering dishes and murmuring voices escapes the open door and windows of the bus. "Tim and his wife Susan are living in there, with their two children."
Tim Haus, a German native, and his wife Susan Umstot, an American citizen, first travelled through Dunster on a family cycling trip a few years back. They both fell in love with the area, especially the strong sense of community. They met in the Middle East, working for Doctors Without Borders; Tim as an engineer and Susan as a nurse. They decided to make Dunster their home.
"We came here to live in the nature," Haus says at Amyoony's kitchen table with coffee in hand, eyeing his loaves of bread in the oven. "To live for the nature, and with the nature." His English is almost flawless.
Haus' short hair is tousled, his hands slightly soiled. He's rigged up a container to catch rainwater so his family can shower outdoors. It hasn't rained much lately, though. "You can live well off the land here," he says.
Amyoony smiles broadly with a hint of pride. "I feel like one of the richest people in the valley when I walk into my root cellar or see my canning cupboard… the food that's grown out of this place has been amazing."
Amyoony says when he moved here he wanted to find affordable land for growing food. He says in the 1990s you could buy a quarter section for $25-$30,000, but now it's $300-$400,000. Many valley residents, especially farmers, are now retiring, he says.
"They sell their land to the highest bidder, and I understand that. They worked their butts off, and that's their pension."
"But the next generation, we know we won't receive a pension, or as much of a pension," Haus adds. "We have to deal with different parameters; hence we are not able to pay $300,000 for a piece of property because we will never make that kind of money living a lifestyle that we believe is good for the world."
Haus has talked to some farmers who were willing to sell a portion of their farmland—tracts spotted with gullies and rocks that aren't really farmable—but restrictions in the Regional District's Official Community Plan (OCP) on subdividing land found within the Agricultural Land Reserve (ALR) have so far thwarted him. The Regional District, with delegated authority from the Agricultural Land Commission (ALC), ensures that farmable land is not divided into parcels smaller than 150 acres, as per the Community Plan. This way farmland is kept in larger, more productive tracts and intervening subdivisions are avoided.
ALR land stretches on either side of the Fraser River, on the valley floor. Residents mostly agree that the ALC's aim is positive, but on the local level it makes it difficult to attract new families and farmers into the valley. With soaring real estate prices, larger parcels are that much more expensive.
The ALC includes incentives to farm land within the ALR, Lara Beckett, chair of the Agricultural Land Use standing committee at the Regional District said. "If you actually farm the land and make enough income on it for agricultural status, you can get a significant tax reduction." But are there incentives to dissuade wealthy landowners who can afford the higher tax rates from abandoning their properties, leaving them unproductive?
"No, not really," Beckett said. "It's private land, so to some degree people make their own choices… It's unfortunate, especially if it's been productive in the past, o see it being taken over by weeds and trees; it's a lot of work to get it back into production."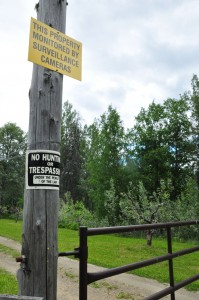 No Blood
Over the past 25 years McNaughton and a neighbour have been tracking land ownership for most parcels of farmland in the valley, labeling each subsequent owner on a series of maps. Wielding a pen in calloused, scarred hands of knobby joints – a farmer's hands – he goes through some of the oldest names in the valley. Chuck can trace his roots in the Dunster area to 1920, when his grandfather bought land—the lot beside McNaughton`s home, in fact. He brings the maps to the Ice Cream Social sometimes, and to other reunions where people happily regale each other with stories of days past. The maps help him track absentee landowners too.
Sitting in his workshop with high ceilings, various machinery and works of art – paintings, drawings, little wood carvings all the way up the walls– Chuck is quick to point out that "absentee landowners" is too vague of a notion: there are oil-patch workers with land who visit on weekends and plan to return for good once the property's been paid off; there are others who can't afford to live on the land they bought, but rent it out to local farmers; these landowners contribute to the community, he says. So which absentee landowners are the real concern?
"The ones that buy it, lock the gate and walk away, and then keep buying more."
Chuck is drafting a letter addressed to Mark Walter that he plans to bring to the next community meeting on July 15. "There's a chance that guys like Mark don't have any idea about this stuff, how they're affecting our community."
It's long been a harsh reality that the economic basis of a community determines whether it thrives or perishes, regardless of history and the sense of home locals may derive. But in the small Dunster community, the economic basis—farming—is still viable.
"Every parcel along the river is crucial to this community," McNaughton says. But farming is being undermined by the current land grab, and by a lack of policies that ensure farmland is actually farmed.
Is the value of farming and food security losing out to the power of global speculation? Co-director Patton bought property in Fort Worth in 2005 for $6.5 million, and then sold it two months later for $15.7 million, the Forth Worth Star-Telegram reported last year. But he's also a farmer: he's been buying enormous ranches all over the US, ensuring surplus hay for his cattle during droughts that devastate smaller farmers. He's managed to keep a low profile despite his enormous wealth, which, in the interview with the Star-Telegram, he attributed to his own community: "If I had grown up in Dallas, it would probably have been different. But this is how you act in Forth Worth."
Or is farming losing out, as Chuck fears, to hunting grounds for the very wealthy? When asked if Fraser River Landholdings or the Guggenheim Partners uses land in the Robson Valley for hunting, the company responded by writing, "Guggenheim is not involved with Fraser River Landholding in any way."
Pete knows it's only rumours that have been swirling for years about the "Guggenheims" and "the hunters" and he's eager for some answers. "The thing is, I don't know what's going on, and I'd like to know what they're doing with our community. Why are they buying up land and not using it? There are those that want to use the land but can't."
Another community meeting is planned in Dunster for July 15. When asked if a representative from Fraser River Landholdings would be present, the media representative wrote, "We don't know if representatives of Frazier (sic) are going to the meeting," misspelling the company and river's name.
McNaughton, and others, hope to find some way to engage Fraser River Landholdings, but, so far, have been ignored.
"Everyone's saying everywhere, small communities are dying. But bugger it, this one's not gonna die."