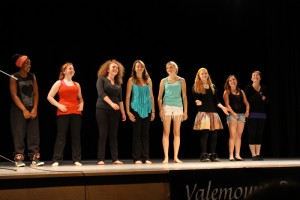 By: Korie Marshall
They've gone to school together, played on sports teams together, but being involved in the Valemount Pageant has allowed them to get to know one another better, in entirely different situations. And it has helped them get to know their community.
"I love being able to participate in community activities, it gives me the chance to really get to know the town itself and the locals that live in it," says Shae-Lynn Carlson, Miss Petro Canada. "There are a lot of amazing people here that I wouldn't know if it hadn't been for the pageant."
It is a sentiment echoed by each of the contestants, Courtney Byford, Miss CN Rail; Alex MacDonald, Miss Spaz Logging; Cypris Arnston, Miss Jerry Plumber Logging; Denice Kapungu, Miss Sew Hot Embroidery; Taylor Clark, Miss Valemount Pines; Taylor Beallie, Miss Valemount Learning Centre; and Darci Peever, Miss Lions Hall.
While some of the contestants were busy on Saturday with graduation ceremonies, the rest pitched in to help out yet another worthy community event, and directed walkers on Valemount's first Walk for ALS.
And how much do they love the pageant orgainzers? "They are the best!" they all say, almost in unison, of Carmen Byford, Sherry Tinsley and Serena Dawson.
Final events for the pageant will be this weekend, druing Valemountain Days, June 13-15.