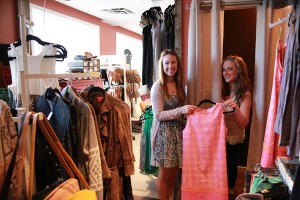 By: Laura Keil
A new change room, expanded retail space and more clothing: those are some of the results of a recent renovation at Mel's Unique Boutique. Melanie Chitty, store owner, and Caitlin Beddington, front-end manager, say originally the boutique had very little clothing – just scarves, accessories and purses. Beddington says a customer would come in and buy a purse and say they needed a new dress to go with it. With few options for clothing in town, Chitty and Beddington began ordering in leggings, undies, dresses and ladies shirts, among other things. The main salon space was beginning to get crowded and they felt they needed more space in order to properly display the clothing.
The renovation meant knocking out a wall and taking over a treatment room. Beddington says they still have three treatment rooms. The waxing room will double as a massage room in case they have two massages booked at the same time. The new change room will mean customers don't have to use a treatment room to try on clothes and they can remain in the retail area.
Among the new clothing is an eco-friendly line and elegant summer dresses.