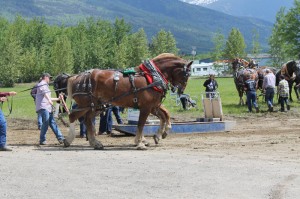 For the last 30 years, Pioneer Days has been a McBride tradition, organized by the Elks and Royal Purple. Organizer Kathy Molendyk says one of the oldest members of the Elks says the events have been running for at least 45 years, but were called something different, and were run jointly by the Elks and Lions Clubs in early years.
This year, with High School Graduation ceremonies scheduled for June 21, Pioneer Days was moved up to the first weekend in June, the 6th to the 8th. Some events start early though, like the annual Quilt Walk which starts on May 26th, and the McBride Realty Colouring Contest. Throughout the weekend there will be Museum displays, a slo-pitch tournament (contact Deb Kelley, 250-569-0342), a Show and Shine at the Gigglin' Grizzly Pub (contact Linda Fry at 250-569-0138), a model train display, a mobile farming bookstore from Beyond the Market, the Norman Lamming Memorial Horseshoe Tournament (contact Hal Carmont, 250-569-8887), and lots of events for the kids. It will also be the kick-off weekend for McBride Healthy Community's "Healthtacular" – stay tuned for more on that.
Friday night the Elks Hall will host the "Minute To Win It" contest. On Saturday, the parade starts at 10:00 am (contact Deb Traquair at 250-569-8825), there will be free Fraser River Jet Boat Rides available (pre-booking at the Visitor Centre required) and the dance at the Elks Hall will start at 9:00 pm, featuring Deuce's Wild. On Sunday, the pancake breakfast will start at 9:00 am, the Loggers Events will start at 11:00 am, and helicopter rides start at 1:00 pm. Lots of other events are scheduled, too many to list, and more not yet confirmed.
Please contact Kathy Molendyk at 250-569-3239 if you would like to volunteer or help out with an activity over the weekend, or call Al or Sandy at 250-569-4101.
By: Korie Marshall