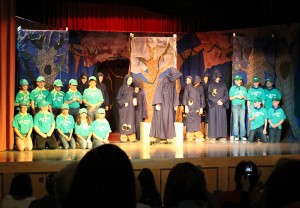 On Friday evening and Saturday afternoon the Missoula Children's Theatre Company made their annual pilgrimage to McBride to present a drama production – this year Hansel and Gretel.
Arriving in McBride on Monday, auditions were held and 54 students selected to be the cast, with an additional four local students selected to be Assistant Directors. Led by Ben Harris and Courtney Marks from Missoula and local accompanist Mrs. J. Keim, the group were organized into Cooks, New Campers, Rascals and Wallybirds to learn their lines, music and choreography.
Missoula arrives with a truckload of costumes, props and two staff members, and in just a week are able to present a brilliant production for the local community and surrounding area.
Featured performers this year included Ethan Quam as Hank/Hansel, Brooklyn Basran as Gretchen/Gretel, Jael Reimer as Wildwood Witch and Lily Esser as Granny. With several costume changes and some incredibly clever set changes, the age old but highly modernized story unfolded. With a combination of background taped music and live piano music the production which ran nearly an hour and 15 minutes played to two nearly sold out audiences in McBride's Roundhouse Theatre.
The Missoula Children's Theatre, which consists of 30 different teams, is spread out to cover all 50 States in the United States, plus Canada and 16 other countries. This team came to McBride after productions in Edmonton's West Edmonton Mall and were going on to Houston, BC as their journey continued.
Supported financially by grants from the McBride Parent Advisory and McBride Elks and Royal Purple and with accommodations provided by Beaver Creek Lodge & Cabins, this treasured week on the calendar provides any number of elementary age children with their first opportunity to participate in a first rate drama production. Annually this North American treasure introduces some 65,000 children to this medium. McBride, which has been on the tour for several years is very fortunate to maintain this relationship with the production team from Montana.
Congratulations and thanks to the students of McBride Centennial School who made up the cast and Assistant Directors and to the teachers who worked hard behind the scenes in so many ways.