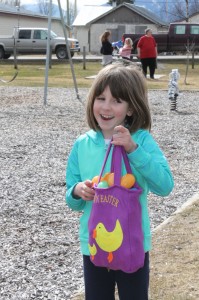 Story and Photos by Chris Parker
As a result of the success of the initial venture last year, the Elks Club under the direction of Kathy Molendyk and Barbara Jackson's 'Odds and Ends' store combined their resources along with several friends to put on the popular Easter Egg Hunt once again.
Starting at 8:30 in the morning the 0-4 year olds gathered and were assisted in the creation of their 'Easter Bunny' collection vessels which were fashioned out of 4 litre Milk Jugs. The creativity of the volunteers was outstanding, as the little ones soon had whiskers, ears and faces decorated and added to the jugs in readiness for the first scramble at approximately 9 am. Frankly I am not sure who was more excited, the children or the parents and grandparents in attendance as many flashbulbs going off illuminated the Elks Hall. All the children were given a balloon and were provided with an opportunity to visit and be photographed with the Easter Bunny, and all left with happy faces. Once the little ones completed their hunt the 5-10 year olds gathered, and after creating their collection vessels they raced out to the village park where eggs were hidden. Some were in plain sight while others were up in trees and under playground equipment. Within minutes the park was spotless and all the eggs were in the jugs or being devoured by the children that had found them.
It takes a lot of work to put on a community event the scope of this one. Between planning, procurement, decorating, execution, and clean up there were many people involved. The two groups of volunteers included Kathy Molendyk, Reed Scales Ford, Braydon Basran, Brooklyn Basran, Raj Basran, Taylor Traquair, Dian Monroe, Christine Monroe, Pat Elliott, Becky Hanson, Sabrina Thomson, along with Home Hardware. Special thanks to Tashia Clinton for her 'extra effort'. In addition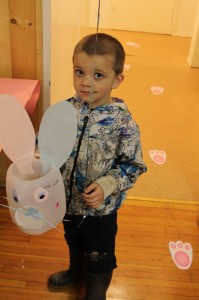 Barbara Jackson, Barbara Brabant, Leona Eyben, Deb Alexander, Betty Long, Sherry Wiltsie, Suzanne Mazereeuw, Jennifer Ford and Emma Carr proved the old adage once again that 'many hands make light work' and kept it fun for everyone. The winner of the draw as to how many eggs were in the jar was Emma Shay with her guess of 193 (actual count 194). In excess of 50 of our local children and at least as many older siblings, parents and grandparents thoroughly enjoyed the morning's excitement.
As well as local participants, visiting grandchildren and nephews from Grande Prarie, Toronto and Edmonton augmented the gathered throngs and all had a wonderful time. Many thanks to the Elks and Odds and Ends for working together to put on this popular event for our community.
This slideshow requires JavaScript.